State of the Airport 2016: Growth continues on all fronts at Houston Airports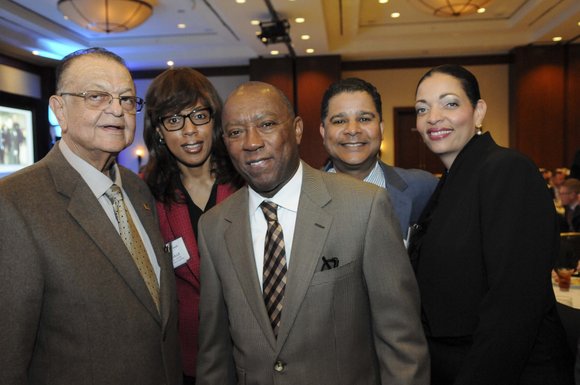 Steady growth — and what that means both for the future of the Houston Airport System and the City of Houston — was focus when Director of the Houston Airport System Mario Diaz delivered the State of the Airport 2016 address before a full house at the Omni Houston Galleria on Monday, March 21, 2016.
Calling the airport system "stronger today than it has ever been" during the 30-minute address before and estimated crowd of more than 700, Diaz cited record-setting passenger numbers at both George Bush Intercontinental Airport and William P. Hobby Airport, the investment in major projects to accommodate that continued growth, the acknowledged financial stability of the organization, and the "unprecedented" level of global connectivity now available to travelers at Houston's airports.
"I'm not only talking about the major continental markets around the globe," Diaz said before citing the expansion of international service at Bush Intercontinental and the return of international service to Hobby Airport. "I'm talking about unprecedented in the fact that Houston is now one of a hand-full of select cities connected to every one of the six inhabited regions of our world."
With a record total of more than 55 million passengers served at the two commercial airports in 2015 — an increase of almost four percent over the 2014 record-setting mark — Diaz noted the role vital projects played in continuing to attract foreign flag carriers to Houston, and will play in the future as both airports look to grow beyond the record-setting 10.7 million international passengers served in 2015.
"We are well on our way to building the platforms for future success," Diaz said, "and we have strengthened the airport system's financial position — all proof that the strategies we have followed and the products and services we have offered have been embraced by our passengers who are our primary customers."
Return of international service at Hobby
While the growth of international travel at Bush Intercontinental continues, Diaz noted that the addition of the $156 million concourse at Hobby Airport — and bringing international service to that facility for the first time in nearly 50 years — is "absolutely vital to the future success of Houston."
For the sixth straight year, Hobby Airport saw an increase in passenger traffic, eclipsing the 12 million mark for the first time. Over the course of the past decade, passenger totals at Hobby have increased by more than 50 percent, while the number of destinations available through nonstop flights has almost doubled, moving from about 30 to more than 60 cities.
The new concourse, and the return of international travel to Hobby Airport, is an essential component in that continued growth, Diaz said.
Opened in October 2015, a partnership with Southwest Airlines produced a 280,000-square-foot complex that includes a five-gate concourse, an expansive ticketing area equipped with modern technology and a Federal Inspection Station facility with modern customs technology. Add in $100 million in enabling projects, including a new 3,000 space parking garage and roadway, and Diaz said the "new facility not only expands the capacity and the capabilities found at Hobby Airport, but it also dramatically improves the overall customer experience."