TxDOT to Hold Public Hearing on Loop 610 Dedicated Bus Lane April 12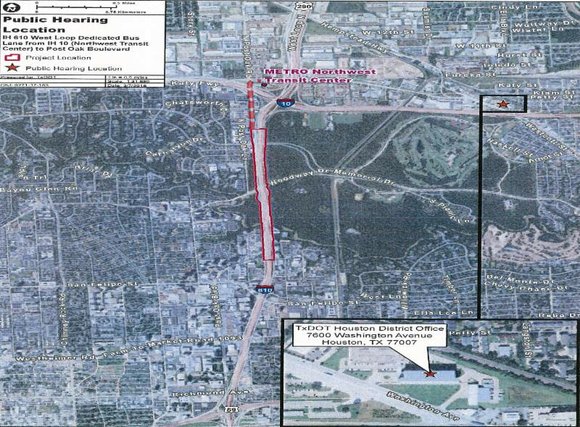 The Texas Department of Transportation (TxDOT) will hold a public hearing on the proposed Loop 610 dedicated bus lane from I-10 (Northwest Transit Center) to Post Oak Blvd. The hearing will be held on Thursday, April 12, 2016, at the TxDOT Houston District Office Auditorium, located at 7600 Washington Ave., Houston, TX 77007. There will be an open house from 5:30 P.M. to 6:30 P.M., where displays relating to the project will be available for view by the public, with the public hearing to begin at 6:30 P.M. TxDOT personnel will be available to meet with you prior to the public hearing to answer any questions that you may have or to review the proposed project with you. If you have any questions in the interim, please contact Pat Henry, P.E. at 713-802-5241.
The purpose of this public hearing is to present a proposed dedicated bus lane on Interstate Highway 610 from I-10 (Northwest Transit Center) to Post Oak Blvd. and to receive comments from the public. The proposed dedicated bus lane would consist of a two-lane structure over the west frontage road of I-610 West Loop, then would cross to the center of the I-610 West Loop. The total project length is approximately 1.5 miles and would not require any additional right-of-way or displacements.
Maps and other drawings showing the proposed project's location and design will be displayed at the hearing. Environmental documentation for the project will also be available for inspection at the hearing. This information is also available by appointment Monday through Friday from 8:00 am to 5:00 pm at the TxDOT Houston District office located at 7600 Washington Ave, Houston, TX 77007. To schedule an appointment, please contact Patrick Gant, P.E., at 713-802-5274. The project information may be viewed at TxDOT's website: http://www.txdot.gov/inside-txdot/getinvolved/about/hearings-meetings/houston/041216.html
Verbal and written comments from the public regarding this project are requested and may be presented for a period of 10 business days following the hearing. Written comments may be submitted either in person, by mail to the TxDOT District Office, Director of Project Development, P.O. Box 1386, Houston, TX 77251, or by email to HOU-PIOWebmail@txdot.gov. Comments must be received or postmarked on or before April 27, 2016, in order to become part of the official hearing record.