Wells Fargo Introduces Go FarTM Rewards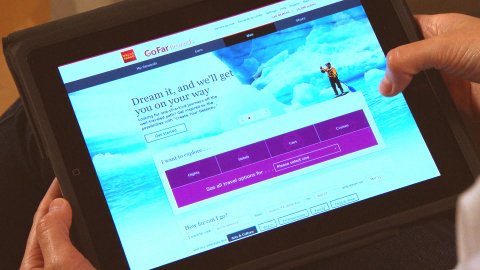 -- Wells Fargo & Company (NYSE: WFC) today announced Go FarTM Rewards, its enhanced credit card rewards program available to all customers with a rewards-based credit card from Wells Fargo. Through the program, customers can redeem their rewards at any Wells Fargo ATM, use rewards toward their qualifying Wells Fargo checking or savings account or apply toward the principal balance of a qualifying Wells Fargo line or loan. Customers can also take advantage of options to pool rewards with other customers, gift rewards to other customers or to charity, create wish lists and more – all while on-the-go. These features are in addition to all the things consumers have come to expect from a rewards program, like travel, merchandise and gift cards.
"Customers use their credit cards to pay for ordinary things they do every day, and we want the rewards they earn from doing that to feel extraordinary," said Beverly Anderson, head of Consumer Financial Services for Wells Fargo. "With an emphasis on the flexibility and accessibility our customers told us they want, we spent the past few years updating our rewards program so significantly we felt it deserved a new name."
Helping customers pay it down
Because every little bit helps, the program supports customers as they work toward their financial goals. Go FarTM Rewards offers the ability to redeem rewards toward the principal balance of a qualifying Wells Fargo line or loan (mortgage, home equity, credit card, personal or auto loan).
Helping customers pay it forward
The program supports customers' desires to help friends, family and their community. These features include pooling rewards with other rewards customers or gifting rewards to other program participants. Cardholders can also redeem their rewards toward a "CharityChoice" gift card, thereby making a donation to charity through the program.
Helping customers reward themselves
Last year, Wells Fargo announced the ability for customers to redeem their rewards as cash from any of Wells Fargo's 13,000 ATMs with their Wells Fargo Debit or ATM card. Wells Fargo was the first major U.S. financial services provider to introduce this functionality, continuing the company's history of customer-centered innovation. In addition, cardholders can redeem rewards as a deposit to their qualifying Wells Fargo checking or savings account.
In addition, the program helps customers reward themselves through an enhanced travel search engine – including an interactive "How Far Can I Go" feature that provides destination recommendations based on accumulated rewards.
Customers can also choose from redemption choices including merchandise, gift cards and digital downloads.
Easy to access rewards when, where and how customers want
Go FarTM Rewards also supports customers' on-the-go lifestyles with adaptive design – the ability for customers to navigate the site on their mobile device, tablet or desktop. Customers can personalize their experience using the "Tailor Your Preferences" widget that allows them to "Love It" or "Leave It" with regard to certain categories.
Recent updates to Go FarTM Rewards have already begun to receive accolades. The program received a grade of "A-" in the Credit Card MonitorSM report Rewards Redemption Options by Corporate Insight, a research company that focuses on financial institutions. The high grade, shared by only two other programs, came after Corporate Insight examined redemption options available through 11 card issuers' programs with special focus on flexibility and choices as well as the design of the site and ease of use.
About Wells Fargo
Wells Fargo & Company (NYSE: WFC) is a diversified, community-based financial services company with $1.8 trillion in assets. Founded in 1852 and headquartered in San Francisco, Wells Fargo provides banking, insurance, investments, mortgage, and consumer and commercial finance through 8,700 locations, 13,000 ATMs, the internet (wellsfargo.com) and mobile banking, and has offices in 36 countries to support customers who conduct business in the global economy. With approximately 265,000 team members, Wells Fargo serves one in three households in the United States. Wells Fargo & Company was ranked No. 30 on Fortune's 2015 rankings of America's largest corporations. Wells Fargo's vision is to satisfy our customers' financial needs and help them succeed financially. Wells Fargo perspectives are also available at Wells Fargo Blogs and Wells Fargo Stories.