Jeb Bush Backs Ted Cruz For President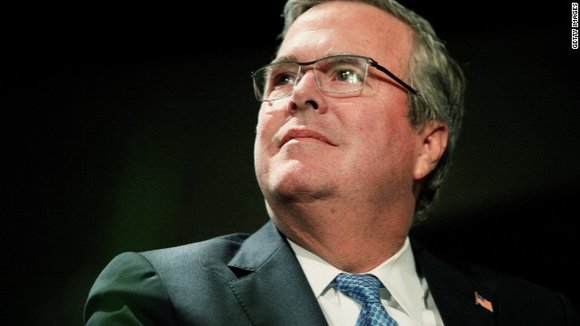 Jeb Bush endorsed Ted Cruz on Wednesday morning, calling his former rival for the Republican presidential nomination a "principled conservative" and urging fellow Republicans to reject Donald Trump as the next GOP nominee.
"Ted is a consistent, principled conservative who has demonstrated the ability to appeal to voters and win primary contests," Bush said in a statement provided to CNN. "Washington is broken, and the only way Republicans can hope to win back the White House and put our nation on a better path is to support a nominee who can articulate how conservative policies will help people rise up and reach their full potential."
Bush's endorsement of the Texas senator comes one month after he ended his own bid for the GOP presidential nomination -- a campaign that failed to gain support in the shadow of Trump's oversized personality and a fractured field that, at one time, had 17 Republican candidates actively pursuing the White House. During the campaign, Bush did not cloak his contempt for Trump, who he described as a "bully" and "not a conservative."
On Wednesday, Bush again emphasized his disapproval of Trump, the GOP front-runner, and warned that if the New York businessman secures the Republican nomination, Democrats will win the White House in November.
"For the sake of our party and country, we must move to overcome the divisiveness and vulgarity Donald Trump has brought into the political arena, or we will certainly lose our chance to defeat the Democratic nominee and reverse President Obama's failed policies," Bush said in the statement.
Trump responded Wednesday afternoon, using Twitter to dismiss the endorsement to dismiss the Bush endorsement.
"I think having Jeb's endorsement hurts Lyin' Ted. Jeb spent more than $150,000,000 and got nothing. I spent a fraction of that and am first," Trump tweeted.
Family affair
The former Florida governor's endorsement follows that of his brother, Neil, who joined Cruz's finance team earlier this month.
"We need a candidate that can unify the party, work with (House Speaker) Paul Ryan, move a reform-minded agenda forward," Neil Bush said in a March 16 interview on CNN's "New Day." "And Ted Cruz is the only guy in the race to do that."
Several members of the Bush family have been clear about their distaste of Trump, who has been critical of President George W. Bush's stewardship of the nation and Jeb Bush's low-key personality.
In February, the matriarch of the Bush family, former first lady Barbara Bush, told CNN that she's "sick of him" and that Trump had said "terrible things about women, terrible things about the military."
And last week, former first lady Laura Bush, George W. Bush's wife, declined to answer a question from USA Today about whether she would vote for Trump if he were the Republican nominee. She added that it was important for Americans to not be "isolationist and xenophobic," an apparent reference to Trump's rhetoric and positions.
Neil Bush noted in the CNN "New Day" interview that John Kasich's decision to remain in the race will aid Trump in securing the nomination, a sentiment echoed by 2012 Republican presidential nominee Mitt Romney. A new CNN/ORC poll shows that 7 in 10 Republicans say that the Ohio governor should leave the race because he is not able to win the 1,237 delegates needed to secure the GOP nomination.