The Ensemble Theatre Act One Young Professionals Kick Off Fifth Annual Dramatry: A Night of Dramatic Poetry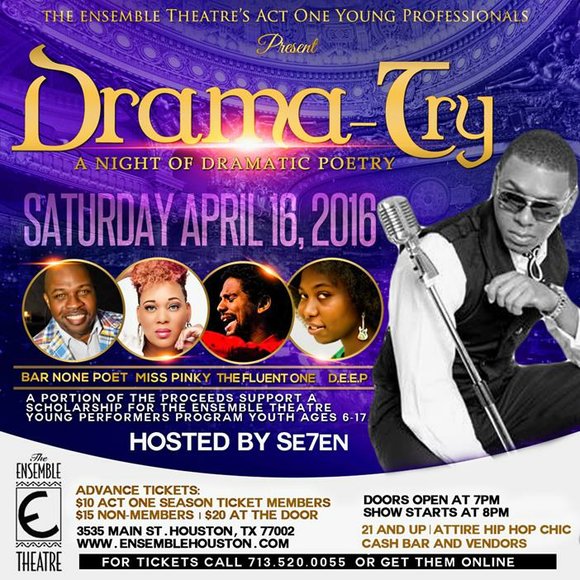 The Ensemble Theatre Act One Young Professionals celebrate their 5-year Anniversary and fifth annual Dramatry: A Night of Dramatic Poetry, Saturday, April 16, 2016 hosted by Se7en the Poet and featured poets include Bar None, D.E.E.P, The Fluent One, and Miss Pinky.
Dramatry creates another platform for Houston area poets while introducing younger audiences to The Ensemble Theatre. Hundreds of attendees have come out to support the poets and learn about the theatre's productions and programs. Act One Young Professionals also donate a portion of the proceeds towards a scholarship for The Ensemble Theatre's Young Performer program; a performing arts education program for youth ages 6-17.
Act One was created as a unique way to unite The Ensemble Theatre's growing community of young artists and professionals with an increasing interest in how they can contribute to sustaining the institution. They are recognized as the theatre's next generation of leaders who support the theatre's annual membership campaign, as well as, volunteer and fundraising support.
For more information, visit http://www.ens mblehouston.com/ActOne/index.html. Tickets are $15 presale and $20 at the door.
The Ensemble Theatre's 2015-2016 Season is sponsored in part by grants from the City of Houston through the Houston Arts Alliance, Texas Commission on the Arts, and the National Endowment for the Arts. United Airlines is the exclusive airline sponsor for The Ensemble Theatre.
The Ensemble Theatre was founded in 1976 by the late George Hawkins to preserve African American artistic expression and to enlighten, entertain, and enrich a diverse community. Thirty-nine years later, the theatre has evolved from a touring company operating from the trunk of Mr. Hawkins' car to being one of Houston's finest historical cultural institutions. The Ensemble is one of a few professional theatres in the region dedicated to the production of works portraying the African American experience. The oldest and largest professional African American theatre in the Southwest, it holds the distinction of being one of the nation's largest African American theatres owning and operating its facility and producing in-house. Late Board President Emeritus Audrey Lawson led the capital campaign for The Ensemble's $4.5 million building renovations that concluded in 1997. The Ensemble Theatre has fulfilled and surpassed the vision of its founder and continues to expand and create innovative programs to bring African American theatre to a myriad of audiences.
For more information, visit http://www.ensemblehouston.com/ActOne/index.html