The Oceanaire Now Serving Alaska Halibut
Wild Alaska Halibut, a Seafood Delicacy, Available for Limited Time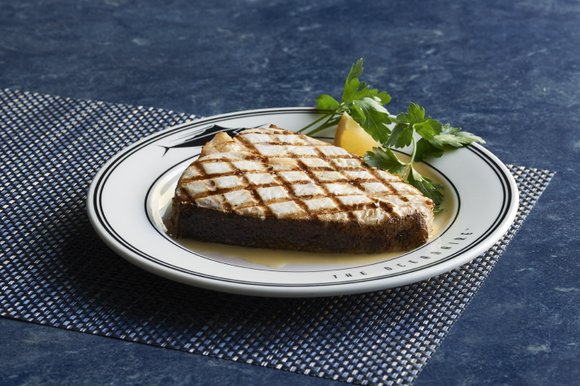 (March 31, 2016) – The Oceanaire Seafood Room is excited to announce Wild Alaska Halibut is now in season and offered on the restaurant's menu. Guests are encouraged to come enjoy this seafood delicacy to experience the unique flavors and new menu items that The Oceanaire has created for this seasonal fish.
The Executive Chefs have developed several signature preparations this season including Grilled Halibut T-Bone Steaks with Haricot Vert & Caviar Butter, Chef Selections like Dijon Crusted Alaska Halibut Fillet with Spring Peas and Morel Mushrooms, and the ever popular Simply Pan-Seared Alaska Halibut Fillet.
Known as "America's favorite fish", halibut is one of the most prized seafoods from Alaska's waters and its ease of preparation yields spectacular results. Alaska Halibut is prepared a number of ways including grilled, roasted, sautéed, or poached. It is prized for its delicate sweet flavor, snow-white color and firm flaky meat.
The Oceanaire offers over 25 species of seafood and shellfish tailored to local market tastes. Only top-of-the-catch fish from the most reputable suppliers are served and each is carefully crafted to ensure the restaurant's high standards of quality and flavor are exceeded in every dish.
For more information or to make reservations, visit www.theoceanaire.com.
ABOUT LANDRY'S, INC.
Landry's, Inc., wholly owned by Tilman J. Fertitta, is a multinational, diversified restaurant, hospitality, gaming and entertainment company based in Houston, Texas. The company operates more than 500 high-end and casual dining establishments around the world, including well-known concepts such as Landry's Seafood, Bubba Gump Shrimp Co., Rainforest Cafe, Mitchell's Fish Market Restaurants, Morton's The Steakhouse, The Oceanaire, McCormick & Schmick's Seafood, Chart House, Saltgrass Steak House, Claim Jumper and Mastro's Restaurants. Landry's also operates a group of signature restaurants, including Vic & Anthony's, Grotto, Willie G's and others. Landry's gaming division includes the renowned Golden Nugget Hotel and Casino concept, with locations in Las Vegas and Laughlin, Nev.; Atlantic City, N.J.; Biloxi, Miss.; and Lake Charles, La. Landry's entertainment and hospitality divisions encompass popular destinations including the Galveston Island Historic Pleasure Pier, Kemah Boardwalk, Aquarium Restaurants and other exciting attractions, coupled with deluxe accommodations throughout the Houston and Galveston area, including the luxurious San Luis Resort, Spa & Conference Center on Galveston Island.
For more information, visit www.theoceanaire.com.