Obama Barnstorms On TV For Stalled Nominee Garland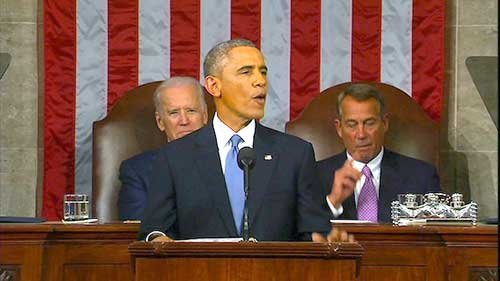 The Senate may be in recess, but the White House and allied groups are working hard to keep the pressure on the chamber's Republicans to hold a hearing and a vote for the president's pick for the Supreme Court, Judge Merrick Garland.
Obama appeared on several local TV stations Monday afternoon making the case for Garland. No surprise, they were in markets with vulnerable Senate Republicans who Democrats are trying to pressure to move on the nomination -- or pay a steep electoral price.
In Milwaukee, Obama's target was Wisconsin Republican Sen. Ron Johnson, who has not yet sat down with Garland during the judge's meet-and-greet tour of the Senate.
"What we're seeing is unprecedented which is the notion that you wouldn't meet with or provide a hearing or a vote for a nominee that everybody agrees is eminently qualified. I'm glad that Senator Johnson now has finally agreed to meet with him but he says he's not gonna give him a vote before the election and yet you haven't heard a good reason for it," Obama said on WISN.
In keeping with a theme the administration has pushed from the beginning of its drive to seat Garland on the highest court in the land, the president slammed Senate Republicans' inaction on a nominee that several have hailed as a qualified, consensus pick.
"There's nothing in the Constitution that says if you're in an election year the president shall not make a nomination," Obama said. "It says the opposite -- it says you shall and then it says the Senate shall advise and consent."
Obama also sat with stations in Phoenix; Manchester, New Hampshire; Cincinnati; Kansas City, Missouri; and Des Moines, Iowa.
While Garland has met with more than a dozen Senate Republicans, the campaign to persuade the GOP to hold hearings has stalled. Senate Majority Leader Mitch McConnell and other Republicans argue that because it is an election year, the decision about who should replace the late Justice Antonin Scalia on the court should be left to the next president, which they say would allow American voters to have a say in the process.
"As you have probably noticed, I have taken a good deal of hits over this. People say, do your job. Do your job. Well this is my job," McConnell said to raucous applause at the Kentucky state GOP convention in March. "You all didn't reelect me and my colleagues didn't reelect me leader, this time majority leader, to give Barack Obama the opportunity to turn the Supreme Court to the left. It ain't gonna happen."
Lobbying efforts by outside groups
The president's television interviews coincide with a push underway by the progressive group Americans United for Change that is bringing mobile billboards to nine states -- Pennsylvania, Illinois, Wisconsin, Ohio, Iowa, New Hampshire, Arizona, Missouri and North Carolina -- over nine days to push for confirmation of a ninth justice to the court. One of the billboards is outside the Sioux City, Iowa, office of Senate Judiciary Chairman Chuck Grassley that reads "Tell Iowa's Senators: #DoYourJob. Fill the vacant seat on the Supreme Court."