White House Poised To Create First Monument To Gay Rights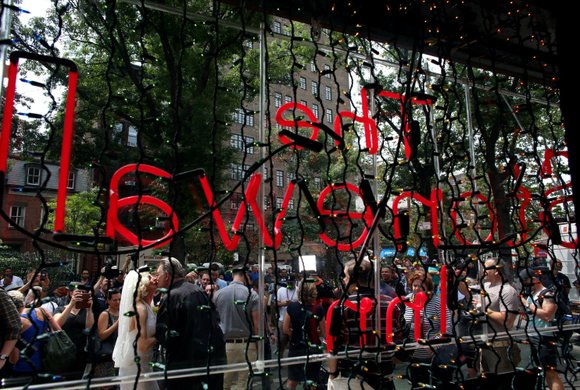 President Obama is poised to declare the first-ever national monument recognizing the struggle for gay rights, singling out a sliver of green space and part of the surrounding Greenwich Village neighborhood as the birthplace of America's modern gay liberation movement.
While most national monuments have highlighted iconic wild landscapes or historic sites from centuries ago, this reflects the country's diversity of terrain and peoples in a different vein: It would be the first national monument anchored by a dive bar and surrounded by a warren of narrow streets that long has been regarded the historic center of gay cultural life in New York City.
Federal officials, including Interior Secretary Sally Jewell, National Park Service Director Jonathan B. Jarvis and Rep. Jerrold Nadler (D-N.Y.), will hold a listening session on May 9 to solicit feedback on the proposal. Barring a last-minute complication — city officials are still investigating the history of the land title — Obama is prepared to designate the area part of the National Park Service as soon as next month, which commemorates gay pride.
Protests at the site, which lasted for several days, started in the early morning of June 28, 1969 after police raided the Stonewall Inn, which was frequented by gay men. While patrons of the bar, which is still in operation today, had complied in the past with these crackdowns, that time it sparked a spontaneous riot by bystanders and those who had been detained.
Although national monument designations are partly symbolic, backers of the move said it could bolster the fight against discrimination based on sexual orientation and gender identity, which led to the landmark 2015 Supreme Court ruling legalizing same-sex marriage.
For more information go to http://www.washingtonpost.com