Workshop Houston Honors Brandi Neal at 2016 Fundraiser, "Lunch Shop"
Bradford Howard | 5/3/2016, 3:29 p.m.
On Thursday, May 28, 2016, Workshop Houston hosted its fourth annual "Lunch Shop" charity luncheon at the Hermann Park Conservatory; bringing donors, special guests and community leaders together to generate funds for the nationally accredited after-school program. In addition to four unique studios that include the Dance, Beat, Style and Scholar Shops, Workshop Houston delivers services to students throughout the Houston area, all at no cost to the community.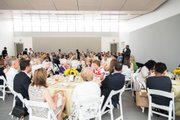 Following remarks from Executive Director Reginald Hatter and Development Director Cecilia Smith, guests were treated to a fantastic lunch courtesy of Tony's Catering and were provided with mini lunch bags as parting gifts. Also in attendance was philanthropist and owner of The B-Connect Brandi Neal, who was received this year's Community Leader Award in recognition of her work in the greater Houston community.
Guests were also treated to performances from two of Workshop Houston's four current "studio" endeavors - Beat Shop (which allows youth to tinker with and hone their musical talent) and Dance Shop (which allows youth participants to express themselves through dance.) The students were also wore clothes made inside of the Style Shop, which also presented a refurbished dresser complete with an image of Audrey Hepburn.
The luncheon raised over $70,000 as the program continues to work towards building a new campus for its growing student population. Though Workshop Houston's foremost cause is to positively influencing local youth while allowing them to express themselves, this year's Lunch Shop also proved that what begins in Houston's Third Ward area, expands and connects the city as a whole.