Clinton Backs Manchin Plan To Tax Opioids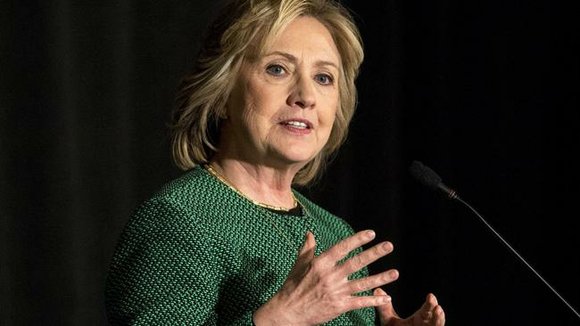 Hillary Clinton on Tuesday backed Joe Manchin's plan to tax opiods, telling the West Virginia senator that his call to levy a 1-cent tax on prescription opioid pain pills was a "great idea."
Manchin, whose state is dealing with the highest rate of drug overdose deaths in the country, proposed earlier this year a tax of "1 cent on each milligram of active opioid ingredient in a prescription pain pill to be paid by the manufacturer or importer."
During a roundtable on opiod addiction here Tuesday morning, Clinton embraced the idea.
"I started looking, I said, 'You know what, we've got an alcohol tax on alcohol, we have a tobacco tax.' So I said, 'Why don't we have a one penny per milligram for every manufactured pharmaceutical that manufactures any opiates, just opiates?" Manchin said.
Clinton jumped in, adding: "Great idea. That's a great idea, Joe. That's a great idea."
Manchin said the plan would raise up to $2 billion a year in money that would be required to go into treatment centers for opiod addiction.
Clinton said plans like that were "one of the reasons why I am such an admirer of Sen. Manchin."
Manchin, whose state has grown more conservative in recent years, has forcefully backed Clinton during her trip through West Virginia despite backlash to her visit. A voter even told Manchin on Monday that he felt the senator was hurt by supporting Clinton.
Clinton rolled out a $10 billion plan in September 2014 to combat opioid addiction and drug treatment, an issue the candidate admits she didn't realize was so important to people until she began campaigning for president in 2014.
That issue is especially important in West Virginia, a state where Democrats will choose between Clinton and Vermont Sen. Bernie Sanders next Tuesday.
West Virginia has the highest number of drug overdose deaths in the United States at 33.5 per 100,000 people, according to a 2015 study by the Robert Wood Johnson Foundation.
The funds raised from the plan to tax opioids be used to "expand access to substance abuse treatment" and would be distributed to states as part of a drug prevention block grant program, according to Manchin's office.
The plan would also offer a rebate for "opioids prescribed for cancer-related pain and hospice patients and an exemption for opioids used as part of medically assisted treatment."
Clinton was in West Virginia as part of a two-day swing through Appalachia, with stops in Kentucky and Ohio. The trip has taken Clinton through the heart of Donald Trump's territory, including Mingo County, West Virginia, where Clinton was met with a chorus of chants and boos during a tense roundtable about coal jobs on Monday.
For more information go to http://www.cnn.com