Wendell Mosby named Manager of Strategic Initiatives at the DuSable Museum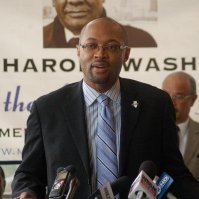 (May 4, 2017)---Perri Irmer, President & CEO of the DuSable Museum of African American History has appointed Wendell Mosby as the Museum's new Manager of Strategic Initiatives. In this exciting role, Wendell will be responsible for the planning, communication and project management of various initiatives with the Museum's growing network of institutional partners and professional organizations.
"I am thrilled to bring on staff someone of Wendell's caliber. He has a wide range of experience that will be invaluable in this role," said Ms. Irmer. "The Museum will benefit tremendously from Mr. Mosby's contribution, as this position is yet another forward-thinking effort on our part to fulfill our mission."
In this role, Mr. Mosby will help to identify prospective strategic partners, create program structures, schedules, and budgets in addition to identifying potential funding sources. Wendell will also serve as the Museum's main liaison for the planning and organization of a new initiative geared toward the creation of a leadership institute at the DuSable Museum. "We ultimately would like to see the DuSable recognized regionally, and nationally, as a nucleus and forum for thought leadership on issues affecting the black community," said Irmer.
"I am extremely excited about this opportunity to join the Museum in this role," said Mosby. "I look forward to working with Ms. Irmer and stakeholders from across the city, and beginning to focus our long-term strategies for the future of this valuable institution."
Mosby currently serves as the Chairman of the Young & Powerful Group in Chicago and he is also the Senior Vice President of Special Projects at BLUE 1647, an entrepreneurship and technology innovation center. Among his many pursuits, he is an elected member of the Prairie State College Board of Trustees and an appointed member of the Illinois African American Family Commission.