Pick It Up Pictures' N.I.M.B.Y. Helps Heal Houston with a Comedy/Music Event to Assist the Houston Flood Victims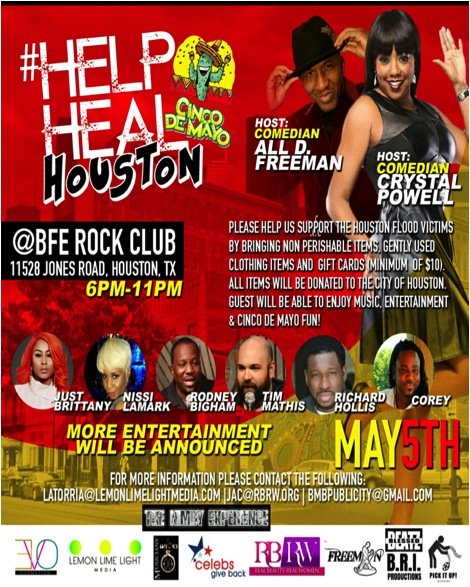 On Thursday, May 5, 2016, from the BFE Rock Club (11528 Jones Rd. Houston, TX) will be the location for one of the biggest Cinco De Mayo parties in Houston, where the biggest act on the show will be as many Houstonians as possible, coming together to Help Heal Houston and the flood victims who have been displaced all over the city.
Sabrina Lott VP of Pick It Up Pictures, along with La'torria Lemon with Lemon Lime Light Media and Celebs Giveback assembled several national comedians and recording artists, who call Houston home, to participate on this special day. Comedians and artists scheduled to appear: Just Brittany, Rodney Bigham, Soulfruit, Tim Mathis, Richard Hollis, Ali Siddiq, Juan Villareal, Nissi Lamark, Corey Stoot, Terry Gross and Kiland to name a few. Comedians All D.Freeman and Crystal Powell will co- host the event. Jarvis Johnson, candidate for State Representative for District 139, will be the Master of Ceremonies.
The BFE staff graciously opened their hearts and the club to host the event from 6pm – 11pm. Admittance to the event is a minimal $10 gift card or a minimal donation of $10 where 100% of the nights' proceeds will be distributed amongst several non-profits in the city that are providing services specifically to Houston's flood victims.
Real Beauty Real Women, Lemon Lime Light Media, BMB Publicity, All D Freeman Presents, Celebs Giveback, The Blessed Beatz, Evo Cosmetics and The Musicians Wives are all sponsors of this Help Heal Houston event.
NIMBY is a division of Pick It Up Pictures started by President and Founder- Jacquelyn Aluotto, in her home state of New Jersey, but since moving to Houston, the activist/ filmmaker is also battling for injustice, hardship, etc right in her "new backyard" of Houston. " NIMBY (Not In My Backyard) has done a few events here in Houston, from outreach to students to feeding the homeless and those displaced due to domestic violence," explains Aluotto ," Wherever there is someone with a need, NIMBY will be there, so how could my team and I not put something together for those so greatly devastated by the flood? Houston, on May 5th , please come out and help heal those in need, right here in our backyard," added Aluotto.
About NIMBY
The NIMBY Experience is a groundbreaking doc-series created by award winning filmmaker/activist Jacquelyn Aluotto. This series highlights celebrities doing extraordinary things to shed light on causes in America that they are passionate about. These artists use theirplatform to truly make a difference in a profound way by raising funds and awareness.