Wood Would Suit a Future Detroit
Rice School of Architecture professors bring Motor City radness to Venice Biennale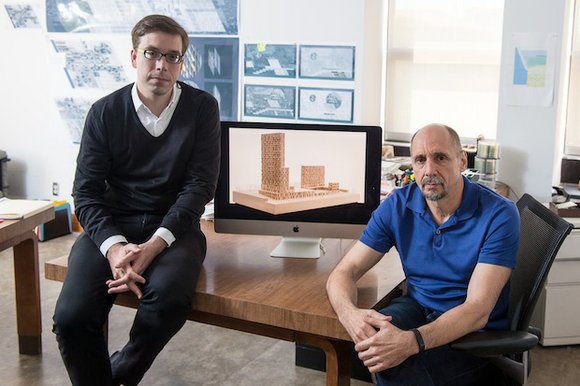 HOUSTON – (May 9, 2016) – There's a crate in Venice, Italy, that contains a vision of the future for a city that needs one.
And two professors at the Rice School of Architecture are anxious to see it opened.
The crate contains their impressive 4-by-5-by-8-foot wooden model of a towering mixed-use structure designed to transform Detroit. It's part of a proposed strategy to bring a run-down industrial neighborhood back to life and awaits installation as the Rice University team's entry in the 15th International Architecture Exhibition at the Venice Biennale.
If they could, Albert Pope, Rice's Gus Sessions Wortham Professor of Architecture, and Jesús Vassallo, an assistant professor of architecture, would turn the model into a timber-constructed reality to address what they see as the oncoming necessity of providing a more carbon-friendly built environment.
Pope and Vassallo were among more than 250 United States architects or teams who competed for 12 spots in the American pavilion at the prestigious exhibition. The Rice duo responded with a yearlong effort to design the complex for two blocks in Detroit's Corktown, which they described as an industrial neighborhood in a city where much of the industry is gone. They also went above and beyond their assignment by considering the long-term implications of redevelopment for the entire 250-block Corktown neighborhood.
The model designed and built at Rice by Pope, Vassallo and their students during a fall seminar will be among the dozen Corktown exhibits patrons will experience in Venice from May 28 to Nov. 27. The professors and a Rice graduate student, Daniel Kuehn, will be present for the opening, glue guns in hand.
"We prepared a small suitcase with replacement parts, just in case we get to Venice and find we have to do some quick touch-ups," Vassallo said.
That should be the easy part, because they made the model tough enough to withstand its ocean voyage. The hard part entailed months of study into how next-generation cities tie into the planet's carbon cycle. Pope maintains that urban planners must take into account the drastic cuts in energy consumption that will be necessary over the next 50 years.
"As we move into the future, it gets more important to cut our energy consumption," Pope said. "We're anticipating that older parts of the city will be sites for new density and new development that will effectively cut consumption by 70 percent."
He's not just thinking about Detroit. A theme in Pope's work is that the roots of the future exist today and that the current state of any neighborhood "inevitably will inform its evolution," a concept dubbed "Present Future." He has been applying the same strategy to a proposal for Houston's Fifth Ward in collaboration with Rice's Shell Center for Sustainability.
"There is a well-known urban theorist, Aldo Rossi, who said the most important, most permanent part of the city is the plan, which is manifest in the first 4 inches above the ground," Pope said. "The plan locks in the land ownership, the public street network, utility runs and a slew of associated functions. Buildings come and go, but it is the plan that has staying power.