What to Watch in Tuesday's Primaries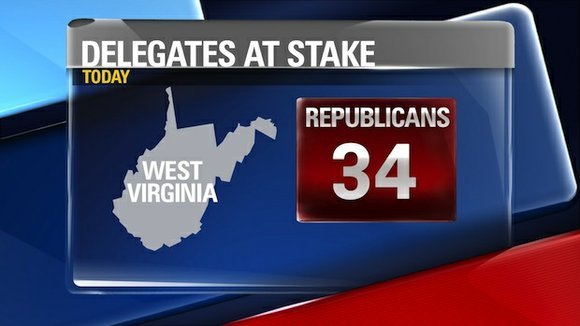 By Tal Kopan
CNN
(CNN) -- Hillary Clinton might be on the way to the Democratic presidential nomination but she enters territory that could be considered more favorable to Bernie Sanders on Tuesday with the West Virginia primary.
And for the first time on the Republican side, there's only one candidate in the race -- but that doesn't mean there's consensus. Republicans in West Virginia and Nebraska will offer the first glimpse at whether the GOP can rally behind Donald Trump in a general election.
For Democrats, only West Virginia offers binding results. In Nebraska, Democrats caucused in early March, favoring Sanders by nearly 15 points. Though Democrats will still be voting in a primary on Tuesday, the results for the presidential race will have no binding effect on delegate allocation.
Here's what to watch in Tuesday's contests:
Do Clinton's coal comments hurt?
Though Clinton won West Virginia over Barack Obama in 2008, she has been in far more hostile territory this time around after comments she made about putting coal miners "out of business."
In a March town hall on CNN, Clinton said her policies would "put a lot of coal miners and coal companies out of business," continuing to say she was putting forth plans to help those people.
But her critics on the left and right have seized on the remarks, with Sanders campaigning in West Virginia on taking care of coal workers and Donald Trump bringing up her remarks in rallies in the state.
Clinton has tried to walk back the comments, answering emotional questions from voters as she campaigns through the Mountain State. And she has the support of Democratic Sen. Joe Manchin, who told West Virginia MetroNews last week that he's been talking to her about improving on President Barack Obama's policies in regards to coal.
But in the heavily coal-reliant West Virginia, the damage may have been done.
Does Sanders pick up momentum?
West Virginia is considered favorable territory for Bernie Sanders.
The electorate in the last presidential Democratic primary was overwhelmingly white and working class. The state also has a primary that allows unaffiliated voters to cast ballots in either contest, meaning Sanders can turn out independents. Both of those factors have tended to favor him in past contests.
Though Nebraska's results are non-binding, if the electorate resembles the pro-Sanders crowd in March, he'll have another result to tout on what could be a rough night for Clinton.
Based on CNN's current delegate estimate, Sanders can't overtake Clinton for the nomination with the remaining pledged delegates up for grabs. He would need superdelegates to switch their allegiance to him from Clinton and pick up pledged delegates in remaining primaries in droves.
The proportional allocation rules in the Democratic primary won't help Sanders catch Clinton -- but he could spend the next month delivering some embarrassing losses to Clinton in states favorable to his campaign.
Will Republicans cast a protest vote?