Education and civic leaders commit to improving Hispanic student success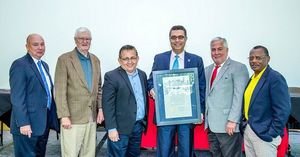 The future for many Hispanic students may be brighter, thanks to a new initiative based at Lone Star College-University Park focused on boosting Hispanic student achievement and career attainment.
More than 100 distinguished educators, students, elected officials, parents and other experts came together at the Latino Education Summit III: Working for Change on Tuesday, May 3.
Experts discussed ways to collaborate across the community to improve things such as test scores, graduation rates and career options for Hispanic students. Before leaving, leaders committed to support a new Texas Center for Hispanic Achievement at LSC-University Park by working collaboratively and in their institutions and organizations.
LSC Board of Trustee members Art Murillo, Alton Smith and Ron Trowbridge, joined with LSC Chancellor Stephen C. Head and LSC-University Park President Shah Ardalan to host the conference in tandem with Richard R. Farias, president and CEO of Houston's American Latino Center for Research, Education and Justice (ALCREJ). The Summit was endorsed by the White House Hispanic Educational Excellence Initiative.
"Right now, about 37 percent of our students across all the campuses are Hispanic," Head said. "We know this percentage will continue to grow and we are committed to helping our Hispanic students, and all of our students, succeed."
Houston Mayor Sylvester Turner proclaimed May 3, Texas Center for Hispanic Achievement Day in honor of the event. His newly appointed Director of Education for the City of Houston Juliet Stipeche led a morning session at and discussed data that shows the challenges and gaps Houston educators face. She said that increasingly Hispanic student success is a matter of national security.
LSC-University Park President Shah Ardalan said, "LSC-University Park believes in the future of all students, and we have the ability to host the center and serve as a hub for collaborative activities. Each organization has committed to supporting Hispanic achievement using its resources and operations, and we look forward to what lies ahead."
Those signing the commitment document include Head, Ardalan, Farias, Carolina Paz-Giraldo, Klein ISD; Maria Bhattacharjee, University of Houston-Downtown; Gracie Guerrero, Houston ISD; Melissa Gonzalez, Houston Community College, Melinda Kirtley, Our Lady of the Lake University; Carolyn Martinez, Sam Houston State University; Carolina Avendano, Rice University; and Javier S. Perez, Talento Bilingue de Houston.
The summit also featured a student panel discussion, led by Jim Wells, a freelance educational consultant and retired principal of Cypress Creek High School.
Other sessions featured Chief of Staff for Houston Community College Melissa Gonzalez, and Ezequiel Pena, Executive Vice President for Academic Affairs in Global & Strategic Initiatives at Our Lady of the Lake University and Director of the university's Center for Mexican American Studies & Research.
Under Head's leadership, LSC has launched a 50-member Hispanic Education Council. Co-chairs of the council are LSC-University Park Vice President for Instruction Kathy Sanchez and LSC-University Park Liberal Arts Dean Mark Curtis-Chavez. The Council works to further Hispanic student achievement and helps grow the number of Hispanic faculty members, staff and administrators at LSC.
"We have exciting plans to marshal existing resources, develop partnerships and advocate for best practices to help Hispanic students," Ardalan said. "We understand the magnitude of the challenge as well as the significance of the cause. We can solve them through collaboration between action-oriented partners."
Summit sponsors included Lone Star College and LSC-University Park, UHD, Our Lady of the Lake University, Houston Community College, Sam Houston State University and ALCREJ.
For more information go to http://www.yourhoustonnews.com