Harris County Health Department to Survey Families in Recently Flooded Areas of Cy-Fair & Spring Areas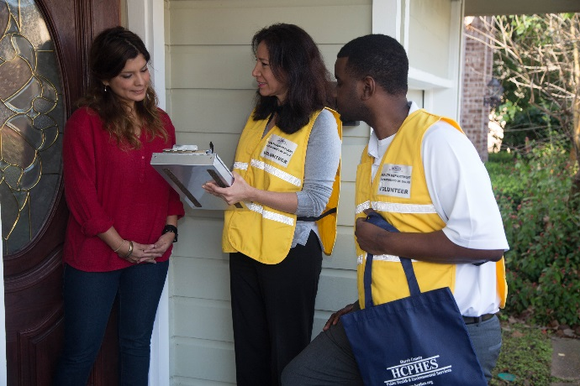 Houston, Texas (May 13, 2016) - Staff and volunteers from Harris County Public Health & Environmental Services (HCPHES) will be going door to door in recently flooded areas of the Cy-Fair and Spring communities on Saturday, May 14th. Survey teams will be asking residents how they and their homes were affected during the flooding, how well prepared they were and what their current health needs are. The teams will provide health and preparedness materials and a list of recovery resources. This information is also on our website, http://bit.ly/HCstormflood.
The survey, Community Assessment for Public Health Emergency Response, is based on a federal Centers for Disease Control (CDC) model. The results with be shared with local, state and federal public health partners to help better understand the preparedness level and address the needs of Harris County residents during emergencies.


Survey questions will include: Did you evacuate; if you had pets, did you take them with you; was there damage to your home; have you noticed mold in your home since the flooding; did you have an emergency supply of drinking water; currently, what is your household's greatest need? Residents will not be asked to sign the survey or identify themselves, their address will not be included on the surveys, and all answers are confidential.
"Our heart goes out to our residents affected by the recent floods. In an effort to help us shape community preparedness strategies for future emergencies or disasters, we are reaching out to our community through this survey to help our health department assess residents' needs before, during and after the flooding," said Dr. Umair A. Shah, Executive Director of Harris County Public Health and Environmental Services.
Media is invited to the command center at the Telge Ag-Science Center, located at 11202 Telge Road, Cypress, TX 77429. Survey teams will start gathering at 8:00 am and will leave the command center and begin entering the neighborhoods at 9:00 am.
Media is invited to come to the Command Center before the teams leave. After the crews leave the command center, Brenda Cabaniss at 832.860.1802 will assist in connecting media crews with our survey teams in the field for neighborhood coverage. Survey participants have the right to be anonymous and we ask that their homes not be identifiable or the addresses shown.
HCPHES is grateful for the help of many partners in planning, notifying the community and providing volunteers for this survey.
HCPHES is the local public health agency for the Harris County, Texas jurisdiction. It provides a wide variety of public health activities and services aimed at improving the health and well-being of the Harris County community. For more information, please visit HCPHES at www.hcphes.org.

Follow HCPHES on Twitter @HCPHES and like us on Facebook.