The Ensemble Theatre Kicks Off Season Finale Satchel Paige and the Kansas City Swing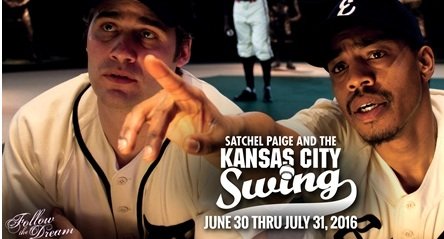 The Ensemble Theatre Kicks Off its 2015-2016 season finale with Satchel Paige and the Kansas City Swing written by Try Ellis and Ricardo Khan, Directed and choreographed by Patdro Harris, and Musical Direction with Original Songs by Carlton Leake.
Kansas City jazz filled nights awakened to cracks of baseball bats as change for Black Americans seemed enticingly close in 1947. Satchel Paige and many other all-stars flourished in Negro League Baseball, many of whom crossed color lines like Jackie Robinson who become the first Black player in modern major-league baseball. This story tells the triumphs and humanity of these players as business men and family men best described in Satchel Paige's quote "Work like you don't need the money. Love like you've never been hurt. Dance like nobody's watching."
Cast members include: Florida artist, Charles Lattimore in the title role as Satchel Paige; and Houston Artists Andre' Neal; Dave Harris; Kendrick Lattimore; Geovanny Acosta; An'tick Von Morphxing; Estee Burks; and Anthony Boggess-Glover.
When: Previews: Saturday, May 7, 2016: 8:00 p.m.
Sunday, May 8, 2016: 3:00 p.m.
Wednesday, May 11, 2016: 7:30 p.m.
Show Run: May 12 – June 5, 2016
Thursdays: 7:30 p.m.
Fridays: 8:00 p.m. Saturdays: 2:00 p.m. and 8:00 p.m.
Sundays: 3:00 p.m.
Where: The Ensemble Theatre
3535 Main St, Houston, TX 77002
713-520-0055
The Ensemble Theatre's 2015-2016 Season is sponsored in part by grants from the City of Houston through the Houston Arts Alliance, Texas Commission on the Arts, and the National Endowment for the Arts. United Airlines is the official airline sponsor for The Ensemble Theatre. Satchel Paige and the Kansas City Swing is generously underwritten by The Cullen Trust for the Performing Arts.
The Ensemble Theatre was founded in 1976 by the late George Hawkins to preserve African American artistic expression and to enlighten, entertain, and enrich a diverse community. Thirty-nine years later, the theatre has evolved from a touring company operating from the trunk of Mr. Hawkins' car to being one of Houston's finest historical cultural institutions.
The Ensemble is one of a few professional theatres in the region dedicated to the production of works portraying the African American experience. The oldest and largest professional African American theatre in the Southwest, it holds the distinction of being one of the nation's largest African American theatres owning and operating its facility and producing in-house. Board President Emeritus Audrey Lawson led the capital campaign for The Ensemble's $4.5 million building renovations that concluded in 1997. The Ensemble Theatre has fulfilled and surpassed the vision of its founder and continues to expand and create innovative programs to bring African American theatre to myriad audiences.