Verizon Kicks Off STEM Partnership with Texas Southern University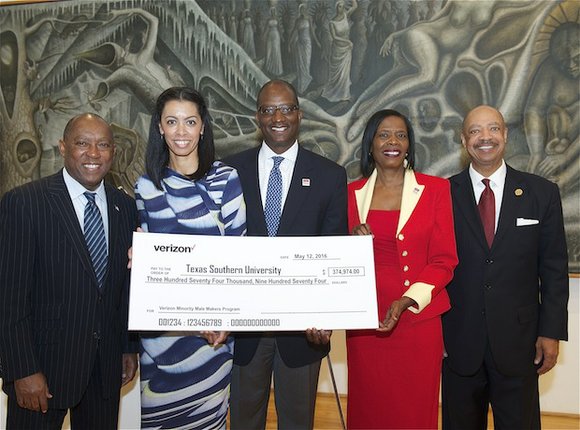 Houston (May 12, 2016) – Verizon and Texas Southern University have announced a partnership focused on exposing middle-school minority boys across Houston to coding, application development, 3D printing, science, technology, engineering and math (STEM) programs and related career opportunities.
The Verizon Minority Male Makers Program @ Texas Southern University is a first-of-its-kind, two-year program designed to introduce young male students to the skills that will lead to career opportunities.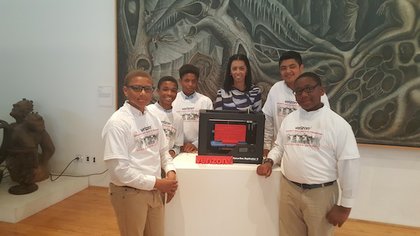 "There are many programs across the country that focus on introducing girls to career opportunities in STEM fields," said Krista Bourne, President, South Central Market, Verizon. "We want our middle school boys to have the same access to learning about technology. We want to reach them at a young age so they can become the technology leaders of tomorrow."
This is Texas Southern's first year of participation in the Verizon Minority Male Makers program. TSU plans to mentor 200 middle school boys in the summer program that begins June 6. The program will consist of four one-week sessions where boys will get hands-on experience with 3D printing, coding and app development.
Several middle-school students from KIPP Spirit College Prep were present for the announcement, along with city dignitaries, Houston ISD officials, and TSU deans and professors.
TSU President Dr. John M. Rudley said that Texas Southern University is already a standard-bearer for STEM curricula.
"This program, in partnership with Verizon, will widen TSU's reach by bringing young black men to our campus, making it clear that a college education and a better life is within their reach," President Rudley said. "We hope that this initiative will encourage them to pursue higher education, and hopefully, with a degree from Texas Southern."
Houston Mayor Sylvester Turner commended Verizon and TSU for providing an opportunity for young minority males.
"I am elated that this program is here in our city," Mayor Turner said. "Thank you TSU and Verizon for preparing these young men for the future by expanding their minds and letting them know that if you believe it, you can achieve it."
Registration is underway for the Verizon Minority Male Makers Program @ Texas Southern University. Applications are available online at www.tsu.edu or by calling (713) 313-7603. The deadline to apply is May 26, 2016.
Verizon Minority Male Makers Program @ Texas Southern University
Four, One (1) Week Sessions

Session Dates (June 6-10, June 13-17, June 20-24, June 27-July 1)

Six (6) Hours a Day (9:00 a.m. – 3:00 p.m.)
About the Verizon Foundation
The Verizon Foundation is focused on accelerating social change by using the company's innovative technology to help solve pressing problems in education, healthcare and energy management. Since 2000, the Verizon Foundation has invested more than half a billion dollars to improve the communities where Verizon employees work and live. Verizon's employees are generous with their donations and their time, having logged more than 6.8 million hours of service to make a positive difference in their communities. For more information about Verizon's philanthropic work, visit www.verizon.com/about/responsibility; or for regular updates, visit the Foundation on Facebook (www.facebook.com/verizonfoundation) and Twitter (www.twitter.com/verizongiving).
About Texas Southern University
Texas Southern University (TSU) is a comprehensive, metropolitan institution providing academic and research programs that address critical urban issues, and prepares its increasingly diverse student population to become a force for positive change in a global society. TSU offers more than 100 undergraduate and graduate programs and concentrations – bachelor's, master's, doctoral and professional degrees – organized into 10 colleges and schools on a 150-acre campus nestled in the heart of Houston's historic Third Ward. The University's enrollment has a population of 8,000 undergraduate and graduate-school academic candidates. Texas Southern has been a distinguished educational pioneer since 1927, and the University has become one of the most diverse and respected institutions in Texas. TSU has positioned itself as a proactive leader in educating underserved students and many who are the first in their family to attend college.