Voters Urged To Visit HarrisVotes.com To Find May 24th Primary Runoff Voting Location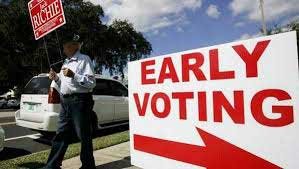 Harris County Clerk Stan Stanart strongly urges voters to visit www.HarrisVotes.com to find their designated Election Day polling location for the May 24, Primary Runoff Election. There, voters can also find their personal sample ballot and the answers to most of their voting questions.
"In Runoff Elections, there are significantly less Election Day locations. The Democratic Party has consolidated the voting precincts into 85 voting locations and the Republican Party has consolidated into 78 voting locations," informed Stanart, the county's chief election official. "Please remember that on Election Day, voters must vote at the designated polling location for their precinct, so please check www.HarrisVotes.com for your location." Per Texas Election code and Secretary of State guidelines, each political party determines the polling locations, as well as, the allocation of equipment and election clerks at each poll.
"Please be aware that voters may only participate in the Primary Runoff Election of the party for which they voted in March," alerted Stanart. "A voter may not cross-over between parties from the Primary and the Primary Runoff Elections. Voters who did not vote in March may vote in either political party's Primary Runoff Election, but not both."
The Harris County Primary Runoff election ballot includes twelve contests for Democrats and six for Republicans.
"On Tuesday, voters determine their party's candidates for several important local and statewide races. I encourage every eligible voter to do their homework and then go vote," concluded Stanart.