Paso Robles: A California Wine Country Experience with a Texas Twist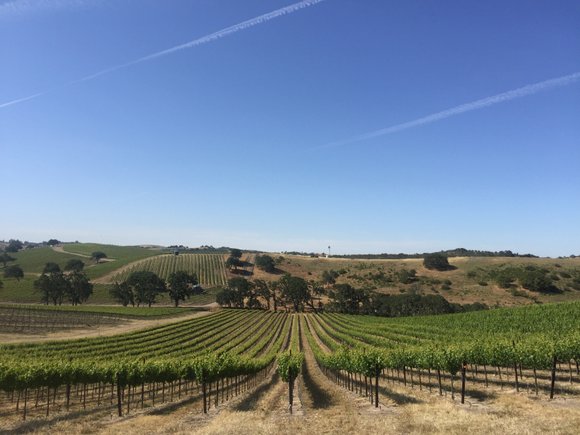 Paso Robles, California - Nestled approximately halfway between the cities of Los Angeles and San Francisco, along the California's gorgeous Central Coast, is a Wine Enthusiast's Dream. Thousands of miles from Texas, Paso Robles is a name that is becoming well known amongst wine drinkers throughout the Lone Star State. With many Paso Wines in stock at your favorite stores like SPEC's Warehouse and HEB, Texans can afford to sip as though they are at the vineyards.
Definitely a beauty within itself, Paso Robles offers more than just Wine and Vineyards. At first sight, you can not take your eyes off of the magnificent oak trees, rolling hills, and acres upon acres of vineyards (more than 32,000 to be exact) around nearly every corner where the region of Southern California ends. With the city proximity to the ocean, it offers more to be discovered with untouched beaches, tons of recreational activities (zip lining being one of many), terrific hiking trails, and the nation's iconic Hearst Castle! Follow us as we embark on a day-by-day journey throughout "A Genuine Wine Country Experience".
Day 1: Starting off by flying into San Luis Obispo Airport on Tuesday and stepping off of the plane onto the runway was an experience. Walking outside, Crow Limousine awaited to transport us to our beautiful resort. First into the limo, the anticipation was high waiting for the others to join. Once inside, it was like MTV's Real World, "6 Journalist picked to explore #PasoWine and tell their stories!" After a 30-minute ride, we arrived at the gorgeous Allegretto Vineyard Resort & Spa. Opening only six months ago, the Allegretto is definitely one of a kind in Paso Robles. Described as a rustic, Mediterranean-inspired refuge, the Allegretto is bathed in acres of sprawling vineyards and orchards, blending the region's best food and wine experiences with European-style hospitality.
Christopher Taranto, Communication Director of the Paso Robles Wine Country Alliance, greeted us in the lobby with Dinner plans at Cello Ristorante and Bar at the Allegretto Vineyard Resort. Executive Chef Eric Olson and his global culinary experience were shown throughout three-course meal including Seared Diver Scallops and Kobe Steak with Roasted Carrots. Winery Guest included Don Brady, Winemaker at Robert Hall Winery, Doug Beckett, Founder of Peachy Canyon Winery, Ben Mayo, Winemaker at San Antonio Winery, and Steve Peck, Winemaker at J.Lohr Wineyards & Wines. We quickly took to the 2015 Robert Hall Sauvignon Blanc and the 2006 J Lohr Cuvee Pom. Both with a distinct taste and offered in Texas, the menu pairing was everything.
Day 2: On our exciting first full day in Paso Wine Country, we learned about the AVA and its Eleven Viticulture Areas (District). Located along California's famed Central Coast, the Paso Robles wine grape growing region's climate is perfect for the production of award-winning premium wines. The different districts including Paso Robles, Adelaida District, Creston District, El Pomar District, Paso Robles Estrella District, Paso Robles Geneseo District, Paso Robles Highlands, Paso Robles Willow Creek District, San Juan Creek, San Miguel District, Santa Margarita District, Santa Margarita Ranch and the Templeton Gap District. These 11 viticulture districts were made official in 2014.
Our first stop on the tour was Pomar Junction Vineyard and Winery. One of our favorite places of the day, Pomar Junction exuded the family feeling and of course great wines. This unique vineyard site provides a sweeping view of the Paso Robes AVA, as well as the names sake of the El Pomar district. Other winemakers included: Justin Vineyards & Winery and Sextant Wines. Both wineries source from the Pomar Junction or located nearby and available in Texas.
Next up, we arrived at Adelaida Cellars. Established in 1980, Adelaida Cellars recently upgraded their visitor's experience with a beautiful new hospitality center overlooking their 50-year-old walnut orchard. Known for their gorgeous views, this particular vineyard offers a wine tasting view from over 2,200 feet above sea level on the Santa Lucia Mountains. Other winemakers included: Calcareous Vineyards and Epoch Estate Wines. Two of our favorites were the 2015 Rose & 2012 Ingenuity that invaded our mouth being with West Paso aromas and flavors.
Following Adelaida Cellars, we departed to Pasolivo Olive Oil Ranch, which was a really unique experience. Situated in the heart of the western hills of Paso Robles, Pasolivo has been producing award-winning olive oils and welcoming visitors to their orchards and tasting rooms for over a decade. Not only did we do a tasting, we also were walked through the production room where every step of olive oil making was explained. Super intriguing information, Pasolivo was definitely a stop to remember.
Our last stop of day two was Tablas Creek Vineyard. The result of a decades-long friendship between the Perrin family of Cháteau de Beaucastel and Robert Haas, long time importer and founder of Vineyards Brands, came Tablas Creek. The families created a partnership and in 1989 purchased a 120-acre property in the hilly Las Tablas district that sits west of Paso Robles. This area, known for its limestone soils, favorable climate, and rugged terrain, made it perfect for winemaking. Winemaker Neil Collins provided us with tastings, which included the Patelin De Tablas Rose 2015, Esprit De Tablas 2014 and Esprit De Tablas 2011.
With day two coming to a close, we enjoyed a fabulous dinner at Thomas Hill Organics restaurant located in the heart of Downtown Paso Robles. With a dynamic menu offering pan seared duck and smoked mount lessen to name a few, we see why Thomas Hill Organics restaurant is a popular destination for creatively prepared, honest food. Joined as well by other winemakers, which included Vina Robles, Halter Ranch Vineyard, Bianchi Winery, and Treana. With all brands being offered in Texas, it made the dinner very special. One of our favorites was the Halter Ranch wines which are also 2016 Texas International Wine Award winners and 2015 Houston Livestock Rodeo Uncorked! International Wine Competition Winners.
Day 3: Our last day, but definitely started off with a BANG! First stop was Margarita Adventures where we signed waivers…. TO ZIP LINE!! We hopped back into our Breakaway Tour bus with our awesome driver Leslie and headed to Ancient Peaks Winery. The owners of the Santa Margarita Ranch (estate vineyard for Ancient Peaks Winery) have a unique landscape that is best experienced from the air! Our group had an excursion into the zip line course (open to the public) along with a guided tour of the vineyard and tasting. We also learned about the 5 soils of Margarita Vineyard that plays a huge part in the vineyard process. The 5 soils included Ancient Sea Bed, Rocky Alluvium, Shale, Volcanic, and Granitic. Totally a mind-blowing experience, this was definitely a highlight of the trip. Where else can you Zip Line and Sip Wine?!

After an amazing time zip lining and wining we headed over to Niner Wine Estate where Andy Niner himself greeted us out front (with a refreshing glass of White Wine of course) and began our tour of this beautiful vineyard. With an immediate feeling of relaxation as you walk in, you instantly notice how carefully crafted the grounds of the estate are. A leader in the sustainable model of wineries in Paso Robles, Niner Wine Estate is a LEED Certified winery, certified for sustainable operations, and solar powered facilities. Niner also features a full-service restaurant, sourcing from local farmers and purveyors, the Restaurant at Niner provided a naturally beautiful setting for our dinner (which was probably the BEST dining since arriving at Paso Robles)! This place is an absolutely MUST SEE, WINE, AND DINE!
Leaving Niner Wine Estate was bitter sweet, but next, we were off to Tin City! Paso Robles Wine Country's newest urban winery experience is Tin City. This new business park has organically growth into a mini-epicenter of winemaking with over 12 wineries finding space for small production. The three wineries visited that we visited that distribute in Texas were Field Recordings, Broadside Wines, and ONX Wines! Our favorite: ONX WINES. Situated in the heart of the Templeton Gap, ONX Wines vines are bestowed the same cool, coastal breezes that have refreshed road-weary travelers for more than 100 years. ONX is a story of juxtaposition; a compelling dance between past and pioneer that begins with incredible soil ripens on the vine and lingers at the length of the pallet. Our favorites included INDIE 2015 Rose of Tempranillo and BRASH 2013!
After Tin City, we headed out for our last evening dinner at Eberle Winery! Gary Eberle, considered the Godfather of Paso Robles Wine Country helped establish the AVA in 1983 throughout Paso Robles. Gary treated us to a delicious barbecue dinner on the terrace at Eberle Winery overlooking the beautiful hills of their winery. Just when you thought you've seen amazing views, there goes another one!
Gary paired our dinner with a few bottles of Eberle Wines, our personal favorite being the Reserve 1999 Cabernet Sauvignon. Serving as the icing on our Media Wine Country Experience, this was a perfect way to relax, reflect, and dine!
Overall, whether you are in your local Texas grocery store or looking to experience Paso Robles itself, you will be in for a real treat with each bottle from the Wine Country. Offering more than 200 wineries to choose from, and fascinating personalities behind each wine, Paso Robles vineyards and wineries are to remember. Paso Robles' unique climate, topography and soils allow the growth of over 40 stunning wine grapes varieties, so there is something for every taste bud to enjoy. For more information, visit www.PasoWine.com or contact the Paso Robles Wine Country Alliance and tell them HOUSTON STYLE MAGAZINE sent you!