Paso Robles: A California Wine Country Experience with a Texas Twist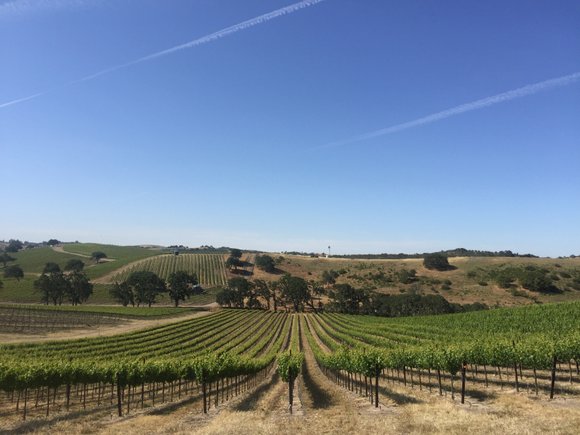 Our first stop on the tour was Pomar Junction Vineyard and Winery. One of our favorite places of the day, Pomar Junction exuded the family feeling and of course great wines. This unique vineyard site provides a sweeping view of the Paso Robes AVA, as well as the names sake of the El Pomar district. Other winemakers included: Justin Vineyards & Winery and Sextant Wines. Both wineries source from the Pomar Junction or located nearby and available in Texas.
Next up, we arrived at Adelaida Cellars. Established in 1980, Adelaida Cellars recently upgraded their visitor's experience with a beautiful new hospitality center overlooking their 50-year-old walnut orchard. Known for their gorgeous views, this particular vineyard offers a wine tasting view from over 2,200 feet above sea level on the Santa Lucia Mountains. Other winemakers included: Calcareous Vineyards and Epoch Estate Wines. Two of our favorites were the 2015 Rose & 2012 Ingenuity that invaded our mouth being with West Paso aromas and flavors.
Following Adelaida Cellars, we departed to Pasolivo Olive Oil Ranch, which was a really unique experience. Situated in the heart of the western hills of Paso Robles, Pasolivo has been producing award-winning olive oils and welcoming visitors to their orchards and tasting rooms for over a decade. Not only did we do a tasting, we also were walked through the production room where every step of olive oil making was explained. Super intriguing information, Pasolivo was definitely a stop to remember.
Our last stop of day two was Tablas Creek Vineyard. The result of a decades-long friendship between the Perrin family of Cháteau de Beaucastel and Robert Haas, long time importer and founder of Vineyards Brands, came Tablas Creek. The families created a partnership and in 1989 purchased a 120-acre property in the hilly Las Tablas district that sits west of Paso Robles. This area, known for its limestone soils, favorable climate, and rugged terrain, made it perfect for winemaking. Winemaker Neil Collins provided us with tastings, which included the Patelin De Tablas Rose 2015, Esprit De Tablas 2014 and Esprit De Tablas 2011.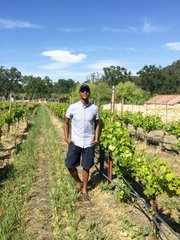 With day two coming to a close, we enjoyed a fabulous dinner at Thomas Hill Organics restaurant located in the heart of Downtown Paso Robles. With a dynamic menu offering pan seared duck and smoked mount lessen to name a few, we see why Thomas Hill Organics restaurant is a popular destination for creatively prepared, honest food. Joined as well by other winemakers, which included Vina Robles, Halter Ranch Vineyard, Bianchi Winery, and Treana. With all brands being offered in Texas, it made the dinner very special. One of our favorites was the Halter Ranch wines which are also 2016 Texas International Wine Award winners and 2015 Houston Livestock Rodeo Uncorked! International Wine Competition Winners.
Day 3: Our last day, but definitely started off with a BANG! First stop was Margarita Adventures where we signed waivers…. TO ZIP LINE!! We hopped back into our Breakaway Tour bus with our awesome driver Leslie and headed to Ancient Peaks Winery. The owners of the Santa Margarita Ranch (estate vineyard for Ancient Peaks Winery) have a unique landscape that is best experienced from the air! Our group had an excursion into the zip line course (open to the public) along with a guided tour of the vineyard and tasting. We also learned about the 5 soils of Margarita Vineyard that plays a huge part in the vineyard process. The 5 soils included Ancient Sea Bed, Rocky Alluvium, Shale, Volcanic, and Granitic. Totally a mind-blowing experience, this was definitely a highlight of the trip. Where else can you Zip Line and Sip Wine?!