Class of 2016: Saluting African American and Hispanic High School Valedictorians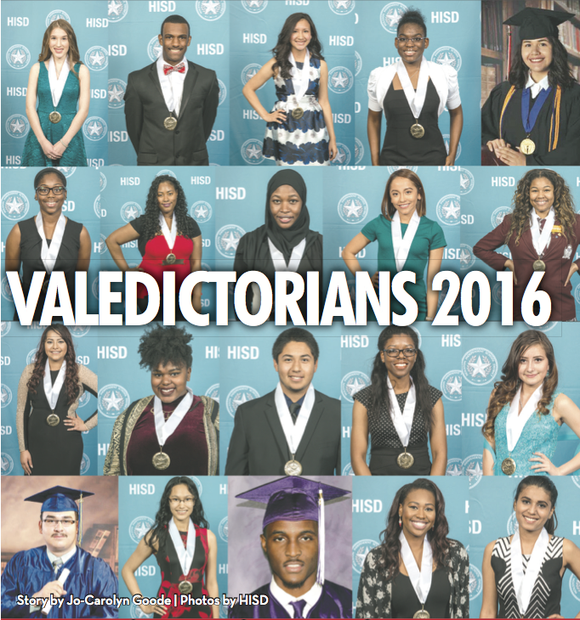 Completion is not always a word that is so definite and permanent. Most commonly completion means the job is finished. One's work is done. However, high school graduation is not one of life's occurrences that I consider as complete. It is one step towards something greater. Whether that is college, trade school, or entering the work force, having your high school diploma is a step towards launching one's professional career in life. It is an achievement to be most proud of and for most high school students it is the peak accomplishment of their young life. Thus by far, reaching that juncture at any phase is noteworthy.
There are a handful of students from each high school who made some sacrifices of missing out on parties, watching that extra hour of TV, or whatever they had to forgo to get in some extra studying. Their extra push allowed them to shot to the top of their class to be named valedictorian. Houston Style Magazine celebrates and pays special homage to these students that set the bar for their 2016 class as valedictorian. Meet the African American and Hispanic Valedictorians of the class of 2016 from HoustonISD.
Congratulations to all members of the class of 2016. Spread your wings and soar high in this world.


1. Melanie Salazar
Austin High School
Valedictorian
College Choice: Undecided
Major: Biomedical Engineering
Activities: National Honor Society, Science National Honor Society, UH Academic Achievers Program, Senior Class President, Science Club, Harrisburg Junior Rotarians, TAPIA Mathematics-Science at Rice, Phi Beta Kappa Honors Academy
Awards: AP Scholar, Honor Roll 9-12.
Additional Information: She received the highest score on the AP Statistics exam in Austin HS History. 
2. Timeria Conley
Barbara Jordan High School
Valedictorian
College Choice: Texas A&M University College Station
Major: Biomedical Sciences
Activities: HISD Student Congress, National Society of High School Scholars, Genesys Works Houston, Senior Class Officer
Awards: Honor Roll, U.S. Achievement Academy, Outstanding Performance in Science
Additional information: She plans to become a neurosurgeon or an emergency medicine physician
3. Annum Sadana
Carnegie Vanguard High School
Valedictorian
College Choice
Rice, Washington U, or Dartmouth
Major: Biomedical Engineering or Biological Sciences
Activities: Interact Club, National Honor Society, Breakthrough Houston
Awards: National Merit Scholarship Finalist

4. Chianti Price
Challenge Early College High School
Valedictorian
College Choice: UT Health Science Center Houston College of Nursing
Major: Nursing
Activities: Mentoring Club, Jehova Witness Congregation Attendant and Auxillary Pioneer
Awards: Most Impressive Freshman, Sophomore, and Junior
5. Luz DeLeon
Davis High School
Valedictorian
College Choice: Undecided
Major: NeuroScience
Activities: Senior Class President, National Honor Society Vice President, EMERGE
Awards: Student of the Year
6. Cesar Rodriguez
East Early College High School
Valedictorian
College Choice: Harvard University or Yale University
Major: Chemistry
Activities: Policy Debate Captain, EMERGE
Awards: National Hispanic Scholar, National Urban Debater of the Year Finalist, Questbridge Finalist
7. Mirayda Martinez
East Early College High School
Valedictorian
College Choice: Undecided
Major: Financial Economics/International Relations
Activities: National Honor Society, Project 88 Foundation/Eagle U, Robotics, Humane Club, Houston Food Bank, UH Youth Empowerment Alliance, Debate