Outdoor Dining
From orchard to table, apples bring flavor for the perfect picnic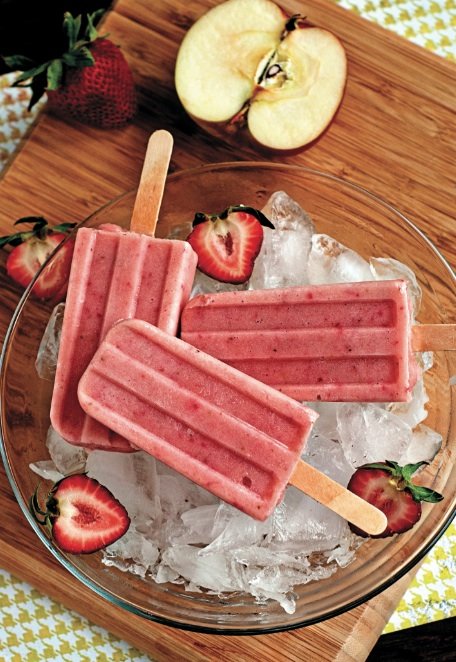 There's nothing like the perfect picnic or barbecue to slow down and reconnect with friends and family. This season, gather together guests and surprise them with a rustic backyard picnic, starring delicious new recipes that bring out the flavor of apples — a versatile and healthy year-round fruit.
Filled with healthy antioxidants, fiber, vitamins and minerals, apples add a flavorful twist to classic picnic fare. For a refreshing treat that both kids and adults will love, try the Strawberry Banana Smoothie Popsicle, made with Tree Top Apple Juice. Or grill some Spiced Pork and Apple Burgers with Maple Dijon, made with Tree Top Apple Sauce for a lean and juicy burger.
For more recipes and inspiration, visit www.treetop.com.
Designing a Backyard Party Is Easy
Set the scene with the right décor and a little bit of creativity — and let nature take care of the rest.
—Find vintage plates and serving pieces at a local flea market.
—Serve beverages in Mason jars, which can also be used as flower vases.
—Cover a rustic table with gingham tablecloth.
—Fill large wicker baskets with apples to use as centerpieces.
—If hosting in the evening, line the table with tea lights and lanterns.
Apple Tortellini Salad
Servings: 6 to 8
Dressing:
3 tablespoons Tree Top Frozen Concentrate
Apple Juice, thawed
3 tablespoons light corn syrup
2 teaspoons brown sugar
1 teaspoon apple cider vinegar
2 teaspoons garlic salt
Ground pepper to taste
Salad:
9 ounces cheese-filled tortellini
2 cups sliced apples (approximately
2 medium apples)
2 cups shredded salad greens
1 cup sliced fresh strawberries
1/2 cup thinly sliced celery
1/2 cup sliced scallions
2 tablespoons toasted pine nuts (optional)
To prepare dressing, combine apple juice concentrate, corn syrup, brown sugar, vinegar, garlic salt and pepper. Cover dressing and refrigerate.
To prepare salad, cook tortellini, drain and cool by rinsing pasta under cold water. Shake gently to drain thoroughly. In a large bowl, combine tortellini, apples, salad greens, strawberries, celery and scallions. Toss salad gently with chilled dressing. Serve chilled. If desired, sprinkle with pine nuts.
Strawberry Banana Smoothie Ice Pops
1 cup Tree Top Apple Juice
1 pint strawberries, hulled, sliced and frozen
1 banana, sliced and frozen
1 apple, peeled, cored, sliced and frozen
6 ounces vanilla yogurt
1 teaspoon vanilla
Put all ingredients in a blender and process until smooth. Pour into ice pop forms or paper cups. Place ice pop sticks in center and freeze, inverted, for 3 hours or until solid. Keep frozen until ready to serve.
Baked Apple Pie Layer Bars
Servings: 16
2 1/2 cups sifted flour
1 tablespoon sugar
1 teaspoon salt
1 cup shortening
1 egg
Milk
2/3 cup crushed corn flakes
1/2 cup Tree Top or Seneca Apple Sauce
5 cups sliced, peeled apples
1/4 cup sugar
1 teaspoon cinnamon
Glaze:
1 cup confectioners' sugar
2 tablespoons lemon juice
Sift together flour, sugar and salt. Cut shortening in with pastry blender or two knives. Put egg yolk into measuring cup and add milk to make 2/3 cup. Add to shortening mixture. Mix just enough until dough shapes into a ball. Roll out half the dough into 15 x 11-inch rectangle. Transfer to baking sheet. Cover with corn flakes. Mix apple sauce together with apple slices, and add mixture on top of corn flakes. Mix sugar and cinnamon. Sprinkle over apple mixture. Roll out other half of dough for top crust. Place over apples. Pinch edges together. Beat egg white until stiff and spread on top crust. Bake in hot 400°F oven for 40 minutes. Cut into 16 squares.