Six Dead After Record-setting Floods in Texas, Kansas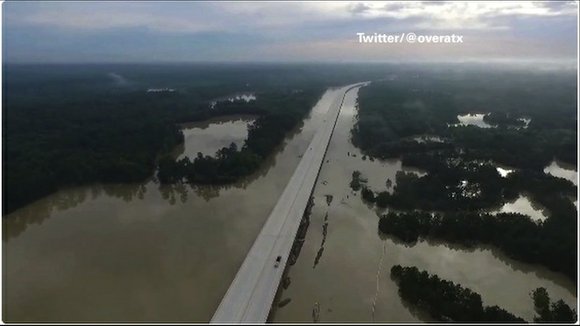 By Joe Sutton, Madison Park and Mayra Cuevas
CNN
(CNN) -- Six people have died in flood-related incidents in southeast Texas after the region was inundated with rain, authorities said.
Four were killed in Washington County, about 75 miles west of Houston, an area hammered with 17 inches of rain Thursday. One was killed in Travis County and another died in Kendall County.
Although the rain stopped Friday night, the area remains choked with floodwaters.
In some areas last week, rushing floodwaters quickly enveloped people in their homes and left drivers trapped in their cars. Rescue boats had to pluck people stranded waist-deep in water over the weekend.
The National Weather Service has issued several warnings for Texas, telling people not to drive cars through flooded areas and to be careful near riverbanks.
And there may be more rain on the way.
The next big storm system is expected to hit east Texas on Thursday and Friday. It could raise river levels and cause more flooding in the area, already saturated with heavy rains.
"Once you get so much rainfall on land, the next rain isn't going to soak in," said CNN meteorologist and severe weather expert Chad Myers.
The city of Brenham, Texas, set a record for its wettest calendar year on record. It was inundated with more than 19 inches of rain in 48 hours -- more than Los Angeles usually gets in a year, according to CNN Meteorologist Derek Van Dam.
The death toll in the flooding
The body of Darren Charles Mitchell, 21, a National Guardsman from Navasota, Texas, was found Sunday morning in Kuykendall Creek.
Three other people also died in the rushing floodwaters. Lela Holland, 64, drowned when floodwaters overtook her Washington home, according to the Washington County Sheriff's Office.
Jimmy Wayne Schaeffer, 49, of Brenham, drove his pickup truck into high waters, climbed into the truck's bed and was then swept away, officials said.
And Pyarali Rajebhi Umatiya, 59, was found dead Saturday in Yegua Creek, officials said. He was last seen Friday morning in his car, which had stalled in high water.
In Travis County, a body was located near a retention pond, the country emergency management office said. The man had no identification and authorities were working to identify him. The incident took place in the southeastern region of the state.
In Kendall County, Florida Molima, 23, died in a car that was inundated by floodwaters. Her husband, a cousin and another passenger survived. The incident took place in the town of Comfort.
In Bandera County near San Antonio, some areas have received up to 10 inches of rain, according to the National Weather Service. High water rescues there are ongoing.
Prisons evacuated
Evacuation orders have been issued for residents along the Brazos River in Fort Bend County near Houston, starting Sunday afternoon.
Approximately 2,600 inmates from two prisons along the river were being evacuated and sent to other prisons that have bed space, the Texas Department of Criminal Justice said Sunday.