The Rose Hosts 3rd Annual Ensemble Theatre Fundraiser to Reduce Breast Cancer Fatalities Among African American Women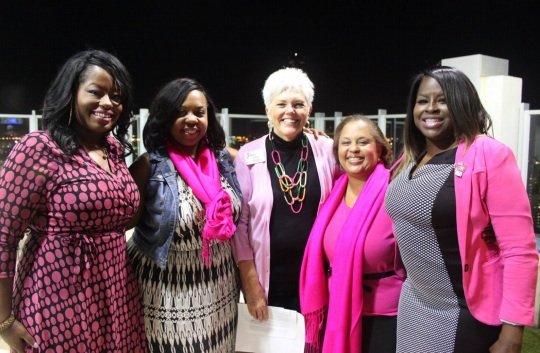 Houston, TX, [May 26, 2016] – ​On Sunday, June 5, The Rose and the Ensemble Theatre are once again partnering together to offer an afternoon featuring champagne, light bites, and a viewing of the Theatre's romantic comedy, Plenty of Time, a romantic comedy about a spoiled southern debutante and a Black Panther falling in love.
The Rose at The Ensemble presented by Merrill Lynch will offer guests an opportunity to network and chat during the reception at 1pm, with the play starting at 3pm.
"This is our most successful annual event that specifically raises funds for women of color," said Chris Noble, Director of Corporate and Business Relations at The Rose. "Last year alone, The Rose served 5,312 African American women of which 4,462 were uninsured."
Funds raised at the event will support The Rose and their annual programming. The Rose is southeast Texas' leader in breast health care, providing access to treatment and screenings to more than 35,000 women every year.
According to the American Cancer Society, breast cancer is the second leading cause of cancer death among African American women, due to factors such as late diagnosis and long intervals between mammograms. That's why, two years ago, Chris Noble of The Rose worked with Kim Roxie, owner of Lamik Beauty, to create an event specifically geared toward promoting breast care health among African American women.
The event chairs are Zawadi Bryant of NightLight Pediatric Urgent Care, Ashley Turner, First Daughter of the City of Houston and COO of Bee Busy Wellness Center, Chris Noble of The Rose and Kim Roxie of LAMIK Beauty.
"It's been an honor to be a part of this event, since its inception 2 years ago," said Roxie. "My mother suffered from breast cancer, and my hope is to honor her legacy while raising awareness about this disease that takes so many lives each year."
Last year's Night at the Theatre event raised over $35,000. This allowed The Rose to provide over 200 mammograms to qualifying uninsured women, who otherwise may not have had the opportunity to be screened.
The first 6 months after the 2015 Ensemble event The Rose provided mammograms to 3,172 African American women. Of those women, 452 were uninsured. From those uninsured women 13 out of 452 were diagnosed with breast cancer. That number is startling when compared to the number of insured women that were diagnosed, 12 out of 2,720.
The Rose offers healthcare to women regardless of their ability to pay. This means that three insured clients of The Rose pay for one uninsured client. To recognize this, tickets will be sold in groups of three. Seating is limited. To buy your tickets for The Rose at The Ensemble presented by Merrill Lynch, visit http://www.therose.org.
Sponsorship and underwriting opportunities are available. Simply email events@therose.org for more information. The Ensemble Theatre is located at 3535 Main Street, Houston, TX 77002.
About The Rose
The Rose is a 501(c)3 non­profit organization that offers advanced breast cancer screening, diagnostic services, and access to treatment. The Rose uniquely meets the needs of both insured and uninsured women. The Rose boasts board certified and fellowship­trained radiologists, specialized technical staff, advanced digital imaging centers, a mobile mammography fleet, and a renowned Patient Navigation program.
About The Ensemble Theatre
The Ensemble Theatre has preserved African American artistic expression and has enlightened, entertained, and enriched a diverse community. The Ensemble is one of the only professional theatres in the region dedicated to the production of works portraying the African American experience and is the oldest and largest professional African American theatre in the southwest.