Film Review: In Moonlight, A Boy Becomes Golden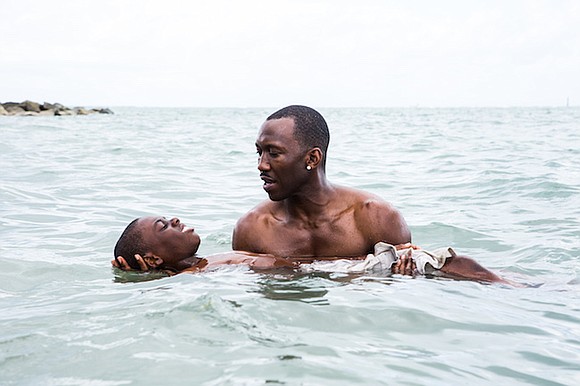 In moonlight, we're asked to stare in the sky and wish. And question. And string together sentences about our dreams and aspirations. There is either noise or silence to accompany us but never assuredness. This is the sentiment of many a man who has awaken in the middle of the night, confused and in question of what his mind told him. This, is also what makes Barry Jenkins' Moonlight the year's best film; a nuanced, brilliant, beautiful and heartbreaking walk towards acceptance and realization of self.
Moonlight, which enjoys its mass release on Friday studies three separate arcs of Chiron, a black boy born and reared by the Pork N' Bean projects of Miami's Liberty City. The region is so Southern and yet so trapped to the ideals of individualism that the Pork N' Beans loses its "r" when the locals repeat it. It's Poke N' Beans. It is here, the colorful project with pink walls in mostly black South Florida that we meet the earliest version of Chiron (Alex Hibbert), his breath in a constant state of fear as he's chased by schoolboys reared with homophobia. Young Chiron is teased from the onset because of his nickname, Little. Because he rarely speaks to anyone outside of his mother Paula (Naomie Harris) and because of his vulnerability. He mostly speaks with his eyes and expresses his pain in ways his scrawny composition of flailing arms and legs cannot. Chiron, as a boy - cannot figure out who he is.
The world in which Moonlight operates is a delicate one. At times it shows how much a community is beneficial to the upbringing of a child. In Little's case, the sole bit of masculinity that arrives into his world is Juan (Mahershala Ali) who is the head of the small drug trade within the community. There's a societal contradiction of course with someone deemed unfit to practically raise a boy that isn't his, especially considering that the boy's mother is slipping into a river of mental illness and crack cocaine addiction. Yet Juan and his girlfriend Teresa (Janelle Monaé) offer the lone bit of continuity afforded to Chiron. It's a safe space, a haven for full meals, clean sheets and wisdom. "Only you can determine who you are," Juan tells Chiron as he teaches him to swim.
Yet even this comfort offered to Chiron is complex. His head is constantly lowered around adults, even his own peers. When he pieces together how the ecosystem around him works between Juan and his mother, it leaves us with one of many heartbreaking scenes. After a series of questions about himself and why boys tease him, he comes right out with it. "My mama does drugs?" Chiron asks with parsed lips. Juan nods. "And you sell drugs?" Juan cops to this deed with barely a mumble. The boy leaves him, broken. The man who practically is his surrogate father shakes violently as if his sin crushed his heart right then and there.
As Chiron grows into a teenager (Ashton Sanders) and even as an adult (Trevante Rhodes), his starkest moments are combined with Jenkins' attention to letting silence and operatic strings push the story. Nicholas Britell's score offers warmth, grace and most of all empathy to all of the characters. Most of all, it builds upon the source work of playwright Tarell McCraney to tell a narrative that is many things. It is not as much a film about black gay youth as it is about masculinity. It is not as much a film about love as it is about tragedy. There are moments of rage and beauty scored to nothing but silence. It's art.