TV One Presents Its "TV Winter Onederland" of Holiday Programming
Network Premieres the Allstate Gospel Superfest, Two New Original Holiday Films: THE CHRISTMAS SWAP and MERRY EX-MAS and Much More!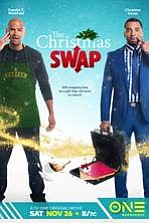 SILVER SPRING, MD - NOV. 4, 2016 – It's beginning to look a lot like Christmas as TV One celebrates the holidays with a programming slate of original movies, specials and marathons to bring in the holiday cheer. Kicking off the "TV Winter Onederland" is the premiere of the new Allstate Gospel Superfest: A Holiday Special, on Sunday, Nov. 20 at 7 p.m. ET, followed by the premieres of TV One's original movies, The Christmas Swap on Saturday, Nov. 26 at 8 pm ET and Merry Ex-Mas on Saturday, Dec. 10 at 8 p.m. ET. Next, TV One will host a holiday marathon featuring the best of Unsung beginning on Thanksgiving Thursday, Nov. 24 at 6 a.m. ET and Rickey Smiley For Real beginning on Friday, Nov. 26 at 8 a.m. ET. Additionally, beginning Friday, November 25 at 8 p.m. ET and occurring for five straight weekends, Friday nights will become home of the holiday-themed sitcom episodes, including The Jeffersons, Sanford and Son, Good Times, What's Happening!!, What's Happening Now!!, Living Single, Girlfriends, The Parkers and Everybody Hates Chris.
An Overview of TV One's Holiday Programming:
NEW SPECIALS
Allstate Gospel Superfest: A Holiday Special
Premiere: Sunday, Nov. 20 at 7 p.m. ET; 9 p.m. ET
Encores: Sunday, Nov. 27 at 1 p.m. ET; 11 p.m. ET
Hosted by Vivica A. Fox, the Allstate Gospel Superfest: A Holiday Special is a two-hour explosion of soul-stirring gospel music honoring the legendary Pastor Shirley Caesar. The special features chart-topping inspirational recording artists including: J MOSS, Jonathan Butler, Tim Bowman Jr., Casey J, Dorinda Clark-Cole, Beverly Crawford, JJ Hairston & Youthful Praise, James Hall & Worship and Praise, Lonnie Hunter featuring Structure, Patrick Lundy & Ministers of Music, Jonathan McReynolds, Karen Clark-Sheard, and Alexis Spight.
NEW ORIGINAL MOVIES
The Christmas Swap
Premiere: Saturday, November 26 at 8 p.m. ET
A down-on-his-luck single father (Dondré T. Whitfield, Queen Sugar) questions his decision to give up his dreams to take care of his ailing mother. A Christmas miracle gives him a glimpse of what his life would have been like if he'd made a different choice. The ensemble cast includes Christian Keyes (Saints & Sinners), Tracey Heggins, Stella Doyle, Diallo Thompson, Delpaneaux Wills, and Chris Whitley.
Merry Ex-Mas
Premiere: Saturday, December 10 at 8 p.m. ET
A mild mannered, single mother, Katrina Jackson (Angel Conwell), and A.D.D. sufferer, DeMarco Gamble (London Brown) are two loving parents raising their daughter in separate households. When DeMarco falls in love with another woman, Vilisa Whitaker (Faune Watkins), and plans a Christmas Wedding; Katrina sets in motion a diabolical plan to ruin their fairytale wedding. Sean Patrick Thomas (Save the Last Dance), Clifton Powell (Ray) and Jason Weaver (Drumline) round out the cast.
MARATHONS
Unsung Thanksgiving Day Marathon
Airs: Thursday, Nov. 24 starting at 6 a.m. – 11 p.m. ET (17 episodes)
Unsung is one of TV One's longest running and most recognizable series. This franchise highlights the life, and career of black Hollywood's influential music stars. The marathon will include episodes featuring Heavy D, EPMD, Bone Thugs & Harmony, The O'Jays, Howard Hewett, Teddy Pendergrass, Otis Redding, Johnnie Taylor, Angie Stone, Troop, Kelly Price, H-Town and Xscape.