Vegetarian Comfort Food in Houston? Absolutely!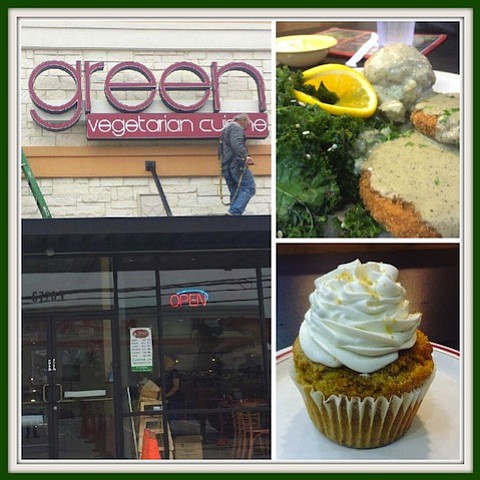 It's no secret that Texas is known to be a meat eater's paradise, but for those who have decided to pass on the carnivorous side of dining, there are some restaurants that are embracing the lifestyle choices of the vegetarian and vegan patrons.
In Houston, we now have an establishment that provides vegetarian meals that seem to have a lot of meat lovers returning to their doorstep. At Green Vegetarian Cuisine, they offer a variety of all vegetable, certified kosher meals, and gluten free desserts that are so delicious that this writer is already planning another trip.
Green's mission statement reads that their goal "is to serve delicious and affordable vegetarian comfort food to our diverse community of customers. We strive to provide a wide range of options for vegetarians, vegans and omnivores alike in order to promote healthier choices in a fast-food world."
The establishment is based out of San Antonio, Texas and is owned by Mike Behrend, Chris Behrend and Mike Evans and they have been pelted with awards such as "Best Vegetarian," "Best Place to Get a Healthy Meal" and several "Readers' Choice Awards" and many others. Additionally, the company's green method extends to all aspects of their business.

In fact, " Green has a recycling dumpster for cardboard, a large bike rack, fair trade organic coffee, free range eggs, uses biodegradable packaging when possible, and will eventually install a cistern to capture rainwater for landscape maintenance." The Houston restaurant is located at 6720 Chimney Rock Houston, Texas near Bellaire and 59 South.
On my first visit I met with Chloe, the General Manager, and she "twisted" my arm and convinced me to try the Chicken Fried Chicken Dinner, with mashed potatoes, kale, and gravy. The "chicken" was actually soy, it was lightly battered and fried, the patties were so light and the texture was so similar to chicken breast that it was hard to believe that it was not meat. Every bite was full of flavor; the kale was sautéed with soy sauce and red pepper flakes, which added a tangy flavor to the vegetable.

For the finale' I tried the Vanilla and Flaxseed cupcake, and I'm so glad I did, this dessert was created without eggs, butter, or milk and is gluten free. The cake was moist, and tasted better than I anticipated; it was not overly sweet and 100% vegan.
Green's website is: www.eatatgreen.com, check out their full menus and plan your trip. They are open Sunday thru Friday and are closed on Saturday for the Sabbath. Moreover, on Sunday's they open at 9:00 am for breakfast.

Thanks for reading and continue to follow Team Style Magazine on Facebook, Instagram, and Twitter.
Share this story online at www.stylemagazine.com.