Meet Dahlia Kelada the Brains Behind SALVE, Houston's All Natural and Organic Skin Care Line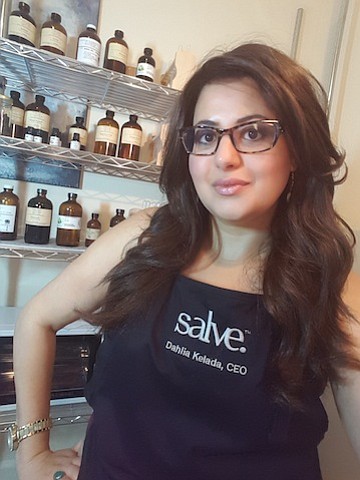 Based in Houston, TX, SALVE is an all-natural and organic skin care line with the mission of healthier and sustainable living. Dahlia Kelada is the beauty and brains behind the product line. This homegrown business is dedicated to providing a quality products with personal attention. If there's something you can't find on the market, they will make it in house.

Most of SALVE's ingredients, unless exclusively found in other regions of the world, are sustainably and ethically grown and harvested in the United States. All of the products use the highest quality ingredients possible, and select our suppliers carefully and with a shared vision of creating awareness and behaviors of sustainability while providing safer cosmetic products that are simple, fresh and healthy.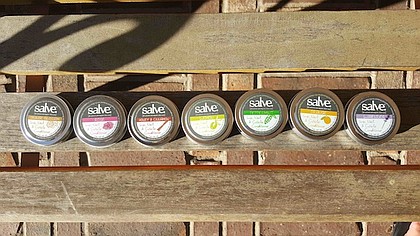 RB: Tell us why you created the natural and organic skin care line called: Salve.
DK: It started nearly 10 years ago when I went through one of two health crisis, which introduced me to natural medicine. That experienced changed my life. Since then I've become obsessed with natural medicine and solving health issues. I want to educate people about the ingredients in products they are exposing themselves to, and healthier alternatives to chemicals in general. Teach them that they are in control of their health, and not to buy into the marketing. Ironically, my background is in marketing.

RB: You have products for men, women, and babies. What makes your products unique from other natural and organic skin care?
DK: The products are based on natural medicine and for people with allergies or sensitivities, or who are seeking healthier products. I'm also starting a pet line, and have launched our first product. K9 Recovery for paws, skin and noses, which my vet recommends for dogs that lick their fur off after flea bites. Most SALVE products are handcrafted right here in the Houston area, and are gluten free, certified vegan, PETA certified as cruelty free, and recognized by the Texas Dept of Agriculture.

Where possible, I aim to support American farmers by using their ingredients in many of my products. Another key differentiator is that I offer the option to customize our unscented products by giving our fans the option to select from over 20 essential oils and we'll make it just for them. We offer full product customization for our spa buyers. We sell wholesale,bulk, professional-use sizes and offer private label. Often times, customers come to me looking for natural medicine recommendations. I really enjoy when customers email me asking me for advice or suggestions. We also offer educational hands on workshops to teach people about healthy skincare and how to make things using ingredients from their own kitchen.
RB: As an entrepreneur, what keeps you motivated?
DK: Being passionate and believing in this as much as I do keeps me motivated. I want to take SALVE the next level, getting into stores and spas nationwide, then eventually create a SALVE Holistic & Wellness Center to include nutritional counseling and holistic spa services, as well as store that can be franchised. I'm currently pursuing continued education to become a doctor of integrative medicine, eventually a naturopathic doctor. I'm also pursuing a master of science in health science for integrative medicine.