National Entrepreneurship Month: Allison Schickel and the World's First Bra + Robe Combination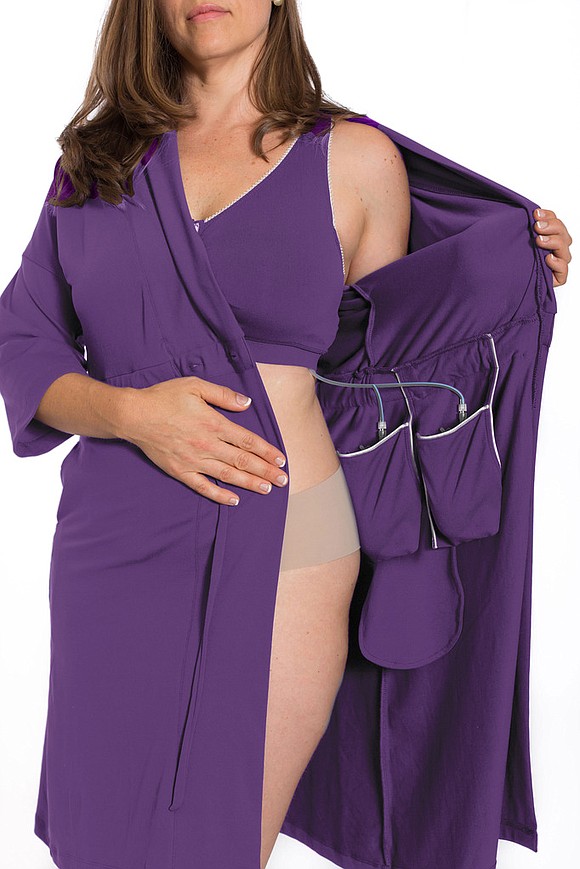 November is National Entrepreneurship Month (NEM) and breast cancer recovery survivors and breastfeeding moms are taking note of Allison Schickel and her life-changing creation, The Brobe.
After a friend underwent a double mastectomy and later three reconstructive surgeries, Founder and CEO of The Brobe, Allison Schickel, was shocked to see her post-operative hospital "gown." For a woman who had fought such a tremendous battle, Allison felt her friend deserved a gown more comfortable and dignifying than what was offered to her. She believed women fighting breast cancer should feel empowered during an otherwise traumatic time and, at that moment, the idea for the Recovery Brobe was born.
With her mother's encouraging words echoing in her head, "leap and the net will appear," Allison began her entrepreneurial journey of developing a functional, comfortable and stylish post-operative garment for breast cancer treatment. She contacted a local seamstress to design a pattern and sew prototypes for The Brobe.
Prototypes in hand, Allison met with the Executive Director and Marketing Director of Susan G. Komen of Austin, who introduced the garment to a woman recovering from a single mastectomy. After trying on different options, she looked up at Allison with tears of joy in her eyes and said, "This makes me very sad for all of the women who have not had this in the past. You have to make these garments!" The Recovery Brobe launched soon after in 2012.
This year, in honor of Breast Cancer Awareness Month, The Brobe is hosting several promotions to empower women as they recover from mastectomy and other surgeries. Their mission is to make women feel dignified and beautiful with a luxurious recovery robe that seamlessly combines fashion and function.

The Brobe and women's jewelry company, Kendra Scott, have partnered up for a "Feel Beautiful" campaign. Together, they are donating "Feel Beautiful" packages to oncology offices, including a Recovery Brobe and Shower Belt by Brobe, a hand-picked piece by Kendra Scott.
In addition to the curated packages, The Brobe is also including a free piece of Kendra Scott jewelry for the first 100 Recovery Brobe orders at regular retail price, purchased via www.TheBrobe.com
ABOUT THE BROBE
Founded by Allison Schickel, The Brobe is a luxury robe with a built-in support system for personal or medical use. Designed to be "functional, yet feminine," The Brobe supports women undergoing breast cancer treatment.
The multi-functional Recovery Brobe was created for breast cancer patients recovering from any breast surgery, including mastectomy, breast reconstruction or augmentation. It is designed to fit every body and uses ultra soft modal cotton gentle on the skin. The recovery garment has also proven very useful for other surgeries, including organ transplants, open-heart surgery, thyroid cancer and more.