NFL-USAA Salute to Service Award Nominees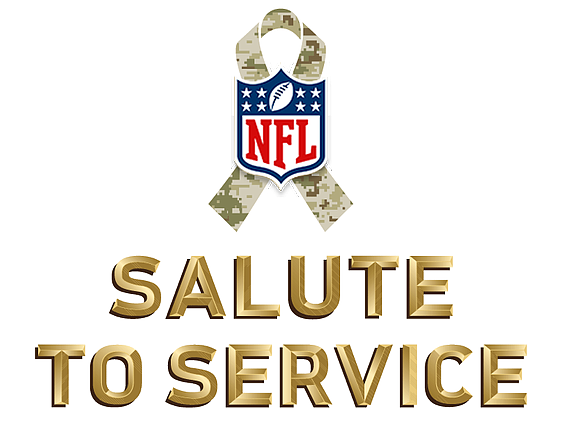 The NFL and USAA, the NFL's Official Military Appreciation Sponsor, have announced the 32 nominees for the sixth annual Salute to Service Award presented by USAA. The Salute to Service Award annually recognizes NFL players, coaches, personnel and alumni who demonstrate an exemplary commitment to honoring and supporting the military community, as nominated by NFL clubs. A list of the 2016 Salute to Service Award team nominees is below.
Finalists for the Salute to Service Award presented by USAA will be announced in January, and the recipient will be recognized at the NFL Honors awards show in Houston, TX on FOX on Saturday, Feb. 4, the night before Super Bowl LI.
Tampa Bay Buccaneers wide receiver VINCENT JACKSON was last year's award recipient. USAA, a leading provider of insurance and other services to U.S. military members, veterans and their families, contributed $25,000 in his honor to the official aid societies representing all five military branches.
A self-proclaimed "military brat," Jackson, whose parents combined for 25 years of active-duty service in the Army, launched the Jackson In Action 83 Foundation in 2012 to support military families by focusing on the educational, emotional and physical health of military children. Jackson hosts local military families at each Buccaneers home game through the "Jackson in Action" Front Row Fans section. His military support efforts include authoring a children's book, "Danny Dogtags: Dealing with Deployment," relaying the challenges and opportunities of growing up in a military family.
The Salute to Service Award is part of the NFL and USAA's year-round commitment to recognize and honor the military community. The league's military appreciation efforts culminate in November with NFL Salute to Service games and other special events to celebrate and honor members of the military. For every point scored during the NFL's 32 designated Salute to Service games, the league donates $1,000 to each of its core military non-profit partners – the Pat Tillman Foundation, USO and Wounded Warrior Project®.
To learn more about the NFL's military appreciation work or to read teams' Salute to Service Award nominations, visit www.nfl.com/salute.
2016 SALUTE TO SERVICE TEAM NOMINEES
View the nominees' full stories on nfl.com/salute
Arizona Cardinals
DEONE BUCANNON (Linebacker)
Bucannon comes from a military family – his father served in the Marine Corps and his mother spent 23 years in the Navy. Growing up on military bases, Bucannon spends time volunteering with service members and telling stories of his childhood to military families around the world.
Atlanta Falcons
DAN QUINN (Head Coach)
Coach Quinn, along with his coaching staff, created the Rookie Club Olympics, an annual event that brings together Falcons players and military members and challenges them to reach the true level of team. This is in addition to his multiple military outreach efforts through his non-profit which benefits military members and families, Quinn's Corps; including multiple events with TAPS, bases in the Southeast and providing opportunities for families and troops overseas during the holidays. Coach Quinn also hosted an Atlanta Falcons USO Tour through the Pacific this summer.