Control of Congress Up for Grabs Tuesday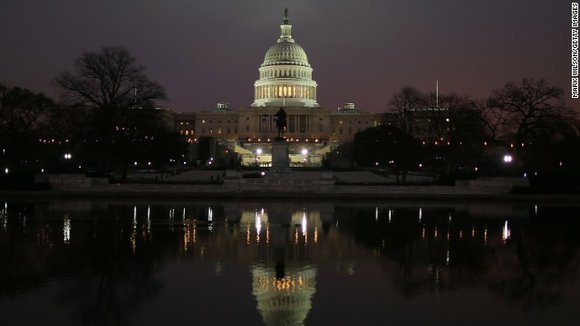 By Eric Bradner
CNN
WASHINGTON (CNN) -- The Senate is up for grabs Tuesday, as competitive races in nine states will determine whether Republicans can hold on to power or if Democrats are able to win a slim majority.
Republicans now hold a 54-46 advantage in the Senate, but come into Election Day with more battleground seats to defend, including in Indiana, North Carolina, New Hampshire, Illinois, Pennsylvania, Florida, Missouri, and Wisconsin.
The presidential race has played a major role in virtually all of the key Senate contests, as Donald Trump's controversies have put some Republicans such as New Hampshire Sen. Kelly Ayotte on the defensive. Hillary Clinton's recent troubles, including the late focus on her email server, may have hurt Democrats down-ballot.
The House is also up for grabs Tuesday night, but Republicans are widely expected to keep their majority -- even if their current 246 to 186-seat advantage is narrowed.
In the Senate, Democrats need five Republican seats to get to the 51 needed for a majority. If the night ends in a 50-50 split, the new vice president would give his party the majority.
Control of the Senate will be key to the early successes of a Trump or Clinton administration.
For Clinton, a Democratic Senate would represent a counterbalance to a House Republican conference that has fiercely attacked her on the campaign trail -- even as some of its members have sought distance from Trump.
There's also the more immediate impact: If Clinton wins and Democrats seize control of the Senate, Republicans could reverse months of resistance to confirming President Barack Obama's Supreme Court nominee, Merrick Garland, and move quickly to approve him before Obama leaves office.
For Trump, a GOP Senate and House would in theory let Republicans swiftly pass legislation that reverses many of Obama's policies.
Republicans holding their own
Republicans faced a daunting task at the outset of the 2016 election cycle: They held 24 of the 34 seats on the ballot -- meaning many more to defend.
But strong GOP candidates have helped the party pull some contests in presidential swing states off the board.
In Ohio, Sen. Rob Portman has run what's likely the best Republican campaign of the cycle -- turning what was expected to be a close race with Democratic former Gov. Ted Strickland into a likely blowout.
In Florida, Sen. Marco Rubio's loss in the presidential primary turned out to be the GOP's gain, as he made a last-minute decision to run for a second term rather than retiring.
Still, the map features several toss-ups.
Wisconsin Republican Sen. Ron Johnson was expected to be an easy target for Democrats, but his race with Russ Feingold has tightened in recent days.
Republican senators in New Hampshire -- where Ayotte faces Democratic Gov. Maggie Hassan -- and Pennsylvania, where Pat Toomey is opposed by Katie McGinty -- could see their fates tied to Trump's performance Tuesday.
Indiana has represented a major disappointment for Democrats. Former Sen. Evan Bayh was expected to run away with the seat in a comeback bid against GOP Rep. Todd Young, but he has faltered amid questions about his residency and his post-Senate lobbying work. That race looks to be close.