This Election Cycle Has Been a Real Horror
Escape The World Of Bickering Politicians and Enter a World Of Fantasy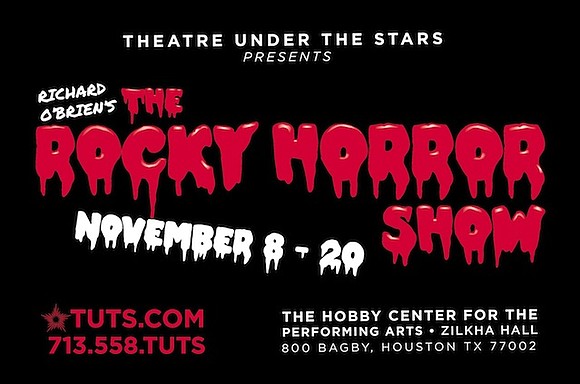 Houston - Theatre Under The Stars (TUTS) noticed that The Rocky Horror Show will be coming to you live beginning on election night! We know it's been an exhausting and trying time for the American people and we wanted to do our part by offering you a night of escape.
You might have noticed we're offering some very special show times for Rocky. It's not midnight, but it will certainly keep you up past your bedtime. On the two Fridays and Saturdays of the show's run - November 11th & 12th and November 18th and 19th - TUTS will have two opportunities for you to "Time Warp" with the Rocky Horror cast with show beginning at 7:30 p.m. and 10:30 p.m.
We want to offer you the chance to upgrade your Rocky Horror viewing pleasure by purchasing our VIP on-stage experience. This experience includes:
● Table service, bar & snacks
● Autographed Playbill
● Audience Interaction Bag
● Joining the Cast on stage for the Time Warp
● Post Show Photo Opportunity
Purchase your tickets for the VIP experience or upgrade your current seats to include this package by contacting the TUTS Box Office at 713-558-TUTS (8887). Better hurry, the seats in Frank's lair are limited.
Speaking of fun audience experiences, we know you're going to want props for this show. As there are some restrictions inside Zilkha Hall, we have decided to offer patrons the opportunity to purchase an inexpensive bag of props to use during the show at the theater. For the safety and security of both our patrons and our actors, you will have to go through a bag check before entering the theatre. We are not trying to be restrictive, we just want to create the best experience where each person attending the show feels free to express themselves and enjoy the show.
You're probably curious as to what items will be offered in the props bag. The bags, which are available for $5, will contain the following items:
● Confetti
● News Paper
● Rubber Glove
● Flashlight
● Playing Cards
● Toilet Paper
● Special Gift
The bag will come with a special instruction sheet for all of you virgins who will be experiencing Rocky for the first time. A portion of the money from each bag sold will go back to the TUTS Annual Fund, which helps to provide funding for our educational programs such as the Humphreys School of Musical Theatre and to the fantastic productions like The Rocky Horror Show.
While we ask that you not wear any masks, you're free to attend the show in costume. Your imagination is your only limit - as Dr. Frank-n-Furter says "Don't dream it. Be it."
As a participating member of the audience, feel free to break the fourth wally and call out the words at the right moments. If you know them, let us hear you!
The Rocky Horror Show is recommended for mature audiences only as it contains graphic language, sexual content and adult situations. Parental guidance is suggested.
Richard O'Brien's The Rocky Horror Show is a musical theatre experience unlike anything else. For more information and to purchase tickets, visit www.tuts.com. Theatre Under The Stars is a 501c3 Non Profit Organization.
Richard O' Brien's
The Rocky Horror Show
Book, Music, & Lyrics by Richard O'Brien
"Rocky Horror Show, The" is presented by special arrangement with SAMUEL FRENCH, INC.
Theatre Under The Stars is a 501c3 Non Profit Organization.
For more information and to purchase tickets, please visit www.tuts.com or call the Box Office at 713-558-TUTS(8887).