Report: HU/NNPA National Black Voter Poll 2016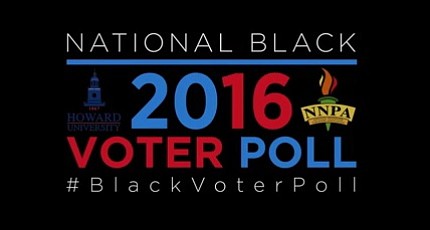 Nearly 90 percent of Black voters plan to cast ballots for Hillary Clinton, the Democratic presidential nominee, according to the 2016 National Black Voter Poll.
The findings presented here are from a national survey of registered black voters in the 2016 election. Data on which they are based are the result of a poll conducted by a multidisciplinary team of scholars at Howard University commissioned by the National Newspaper Publishers Association, the nation's largest and oldest trade association of Black-owned newspapers and media companies. The study represents a nonpartisan, independent, scientific poll of black voters.
Conducted in October 2016, the poll examines the views of more than 900 black registered voters throughout the United States. This report highlights the range of preferences and voting motivation among black voters for presidential leadership. Important results on voter preferences and choices among major public policy options also emerge from the new data.
As long recognized, African Americans and other black voters overwhelmingly prefer Hillary Clinton over Donald Trump for president. However, findings of this poll expose differences among these voters. Highlights of the extent of their preference, how widely it varies, and how it links to big differences within the black community are explored in this report.
It is important to bear in mind that the questions of the HU-NNPA poll were generated within the context of the black experience. Howard University and the National Newspaper Publishers Association have been leading institutions advancing thought and enriching life experiences for black citizens for well over a century. Being intimately involved with the sensibilities of the black community influenced the selection of questions for our poll.
The National Newspaper Publishers Association (NNPA) partnered with Howard University to produce the 2016 National Black Voter Poll, the first scientific poll of Black voters conducted during this election season.