Mixed Chicks Launches New Line of Luxurious Hair Care Products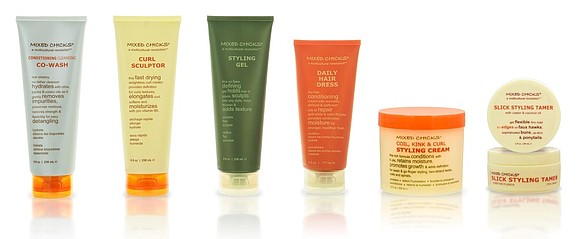 Founded by two multicultural women on a mission to transform the haircare industry, Mixed Chicks has given men and women with curly, wavy, kinky hair the keys to their best hair days.
Now, they're excited to announce the expansion of their problem solving brand with an all new collection of curl defining and styling products.
"We've embraced a variety of textures to help solve special haircare woes," said co-founder Kim Etheredge. "Our new products can help anyone achieve the styles they want using the techniques they love."
Incorporating extra penetrating oils and vitamins to deliver hydration and shine to every strand, Mixed Chicks is making it even easier for everyone to obtain the styles they love with less fuss and frustration.
The new line features six unique products:
Coil, Kink & Curl Styling Cream -- This cream uses six nourishing oils to help hair retain moisture while making styling easy.
Slick Styling Tamer -- This lightweight pomade provides edge taming and sleek styling for sophisticated buns, ponytails, up-dos, faux hawks, and more.
Conditioning Cleansing Co-Wash -- This creamy, no lather cleanser is a revitalizing shampoo alternative that uses jojoba and castor oils to restore strength and flexibility for easy detangling.
Curl Sculptor -- This light curl definer uses pro vitamin B5 for a weightless, fast drying formula that's perfect for a natural style or free-flowing look.
Daily Hair Dress – This avocado, almond, and safflower oil infused creation rejuvenates dry, brittle hair by adding continuous moisture and repairing split ends. It works wonders for moms styling ponytails, braids, and curls.
Styling Gel -- This no flake defining gel works to add thickness and texture while holding hair firmly in place.
Whether she needs to look her best for a day at the office, he needs to get ready for the club, or the kids need a new look for school, Mixed Chicks can make it happen.
Mixed Chicks' newest products will be available online and in select retailers nationwide starting in late November.
About
Mixed Chicks was launched by two "mixed chicks" on a mission to create a product line to meet the unique demands of the multicultural woman. They've turned a dream into a reality, providing women of different ethnicities with hair care and makeup products that embrace and celebrate their diversity. Mixed Chicks can now be found around the world, enriching her skin and luscious locks with quality ingredients and a dedication to her natural beauty.