Local Charity Doubles Service to Serve Region's Underpriviledged
Clothed By Faith Thanksgiving Community Event, Nov, 24th 2016 Giving Tuesday, Nov 29th 2016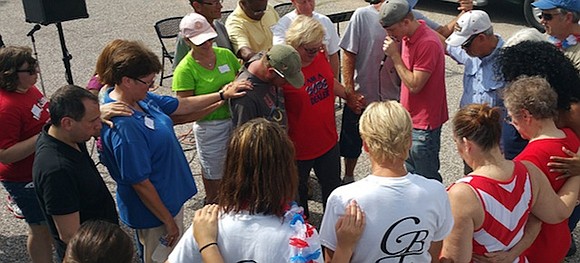 HOUSTON, TX (November 14th 2016 ) – One in four children and 42% of single mothers in Texas live in poverty. As these communities grow, so does the need to help. Since 2013, the non-profit Clothed By Faith, has provided more than 8,000 underprivileged children, families and individuals in the Greater Houston area and North East Texas with new or gently used clothing and footwear. Clothed By Faith will double the number of families it serves with the opening of its third location, and mobile clothing closets.
Clothed By Faith gives families a way to acquire new and gently-used clothing with dignity and anonymity though a personalized online experience. Clothed By Faith opened their second location in April this year in the Commerce, Sulphur Springs and Paris area in Texas. In addition, the charity has launched "Clothing Closets" in children's homes in Fort Bent and Harris counties, as well as a mobile "Pop-Up shop" which tours communities whose members may not be able to visit a center. At the Pop-Up Shop families can shop, at no cost, for a week's worth of clothes while enjoying the same quality of clothing with the levels of service they would experience at a commercial retail store. See the schedule of community events here: http://www.clothedbyfaith.org/Events.aspx
"We don't want anyone to be defined by the stigma of poverty," said Abi Morton, Clothed By Faith founder. "By expanding our outreach efforts, Clothed By Faith helps people reclaim their dignity and express themselves though their clothing," Morton continues, "We bring our shop curb-side for kids and families who don't have the money to experience retail shopping. Each person is treated equally, and makes decisions on how they want to look."
About Clothed By Faith:
Clothed By Faith is a non-profit organization based in Katy, Texas that strives to demonstrate God's love through the provision of gently used clothing to those in need. Founded in her garage by Abi Morton, CBF has now expanded to two locations in Katy and North East Texas with a further presence in two children's homes in Fort Bend and Harris counties where they have set up "clothing closets". From humble beginnings, CBF has now served nearly 8,000 clients.
Clothed By Faith employs a unique process whereby clients are invited to request clothing based on their personal preferences. Each individual receives a week's worth of clothes including shoes, new socks and underwear. By opening up to clients in such a manner, CBF endeavors to empower those trapped in the cycle of poverty by offering them a choice. Clients can make a request via a comprehensive online system with teams of dedicated volunteers on hand to assemble the orders for collection.
Clothed By Faith has partnered with over 100 different non-profit organizations, churches and family services in the Katy and Greater Houston area in order to reach out to families and children in need. To collaborate with CBF or make a donation please visit ClothedByFaith.org