Chef Marcus Samuelsson Brings the Hustle of Food to Houston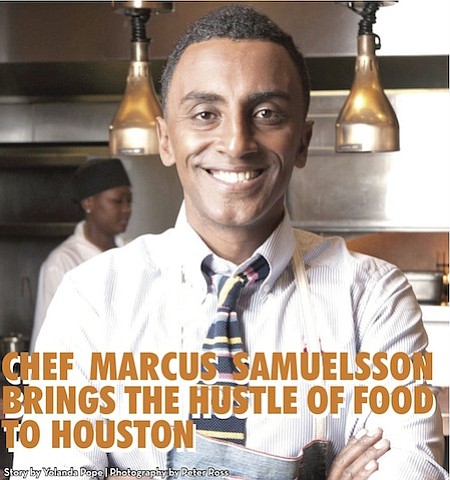 Food has always surrounded the life of Chef Marcus Samuelsson. Since he could put one foot in front of the other he has been engrossed in the art of food from catching it to prepping it to serving it to others for enjoyment. No wonder he is one of the world's greatest chefs.
His eclectic background allows his entrees to have the international flair of Ethiopia mixed with the American hodgepodge of New York and bits of other places here and there. Allowing his to be much more than just a showcase of food but one that highlight art, beauty, and fashion.
With just one meeting with Chef Samuelsson and his zeal for food is highly apparent. It is almost like he is about to explode because he loves the culinary industry so much. So imagine my excitement when I found out I would be speaking with the genius himself. Yes, I felt like I was about to explode.
I met Chef Samuelsson at the brunch he was hosting for two of his protégés turned restaurant owners - Terrence Gallivan and Seth Gardner of Pass and Provisions located at 807 Taft Street in Houston. Always having his hand in everything, Chef Samuelsson was wearing two hats that day – one of an accomplished chef and the other as a warrior of words as an author. In between tales of his love for people, his work in the food industry, gratitude for those involved in his journey, Chef Samuelsson focused on food and the hustle, the inspiration behind his new book "The Red Rooster Cookbook, The Story of Food and Hustle in Harlem."
The title was inspired by his restaurant of the same name that he opened in his old neighborhood of Harlem. Others may have seen this project as just another restaurant but Chef Samuelsson saw more. It was a place for the meeting of minds of uptown and downtown Harlem. A place where all the different cultures, nationalities, and background come meet for one big exchange allowing food to be the backdrop. "Named after a historic neighborhood speakeasy, the modern Rooster reflects all of that, from the local art showcased on its walls, to the live music blaring from its performance spaces, to the cross-cultural food on its patrons' plates and the evocative cocktails in their hands," said Chef Samuelsson.
The Red Rooster cookbook takes that concept one step further. In his book, Chef Samuelsson tells a story as opposed to just compiling recipes. Oh, the recipes are tantalizing. Just think about making Brown Butter Biscuits, Chicken and Waffles, Jerk Bacon and Baked Beans, Latino Pork and Plantains, Chinese Steamed Bass and Fiery Noodles, Ethiopian Spice-Crusted Lamb, and Rum Cake in your kitchen. Can you taste it? Scrumptious! However, the book is more than just about cooking food. It gives food a musical playlists of sorts by such artists as The Rolling Stones, Big Mama Thornton, Stevie Wonder, and Dionne Warrick to really convey the essence of New York. And the photographic visuals put you right in the heart of Harlem so that you too can be enamored with the city.