Autistic Teen Turns Food Aversions to Recipes for Success
Yolanda Pope | 11/23/2016, 11:59 a.m.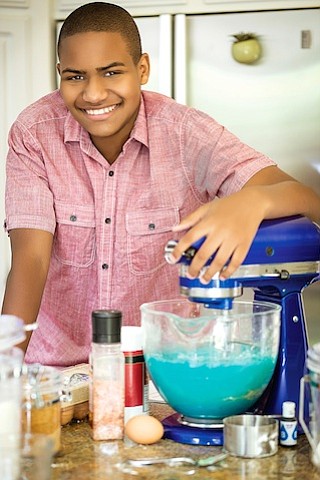 When it comes to eating many of us have that one or a few things that we refuse to digest because of the texture, color, taste or all the above. Most of us grow out of our food struggles, but if you're a person that is diagnosed with Autism, having food aversions is common; however, getting older is not a factor to changing one's eating preferences.
For Chase Daily, his food aversions were so severe, because ever since he was little, he would only eat five things; this habit threatened his health and alarmed his family. Then, according to his mother Mary "one day I noticed how drawn he was to TV cooking programs. Long story short, food became his world—he started overcoming his aversions and even started trying exotic foods. He also decided he wanted to be a chef and have his own cooking show."
Chase now has a popular YouTube series called "Chase N' Yur Face". Each episode features the teen chef demonstrating how to prepare and cook certain types of food. His show has gotten quite a large fan base and notoriety that he's been on "The Chew" and often has a celebrity chef on his web series.
Moreover, I had the pleasure of speaking to Mary Daily and she was thrilled to tell me how much Chase's life and health has improved since he became obsessed with cooking. First all, his eating habits have changed completely, he grills and eats vegetables, meats, and loves to experiment with different types of food, plus he likes to bake.
I asked her "did he have a favorite food, and she said I'll let you ask him" the young chef's voice was clear and full of joy as he explained to me that he loved "cooking and eating all the classics, burgers, pizza, spaghetti with a classic marinara sauce." He even asked me a few questions, for example "had I ever eaten foie gras?" After I replied, he went on to tell me how he loved pastor tacos, and other spicy foods.
Furthermore, as of this November, Chef Chase's cookbook has launched with the main purpose to "celebrate life and raise money to help other people with Autism." The Official Chase 'N Yur Face Cookbook "combines delightful recipes, uplifting anecdotes and fun facts"; it is now available for purchase at: BarnesandNoble.com and Amazon.com. Read more about Chase Daily by going to his website: chasenyurface.com.
Thanks for reading, and please continue to follow Team Style Magazine on: Facebook, Instagram and Twitter.