Giving Thanks: TeamStyleMag Counts Their Blessings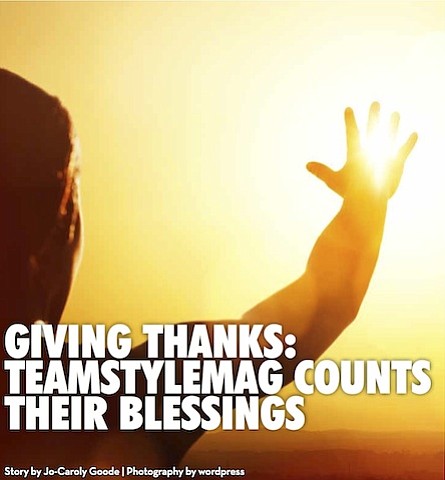 The holidays always give us that time to pause. Allowing to take a real big deep breath and exhale all of what the previous ten months threw at you. I believe that is why people tend to smile more, laugh more, give more, and are just happier because they have already started the process of leaving yesteryear behind them.
The holidays are also a time of reflection of what went right, what went wrong, and what did you learn from the experiences. You might even take a long look at yourself to see how you have changed. Now don't go and point any negatives. Just speak positivity that you took what 2016 gave you and you still standing to tell the story.
Lastly, I believe the holidays are a time to truly be grateful for the things God gave you, the things He kept you out of, and how He (or whatever your spiritual power is) protected you. Along that same line, you can't forget the people with you here on Earth holding you up when you need it, sharing in your joys and successes, and just being that unmovable rock of support in your life.
These are just some of the many things we should be thankful for. And many times we don't stop to do that. The Houston Style Magazine team is guilty as well. With our deadline orientated business, we are always on the go and the move. However, this Thanksgiving we are stopping to breathe and tell of our appreciation and why we are so thankful.
"I am thankful for my family. It is with my family's support, coupled with my faith in God that keeps me fueled to keeping going and wanting to do and be better. I am nothing without them."
~Francis Page, Jr. Publisher
"This year is another year that I get to make memories with my father who recently beat cancer. In addition, my twin boys graduated with their bachelor's degrees; for this, I'm more than thankful. My life has been abundantly blessed."
~ Lisa Valadez, Associate Publisher
"I am thankful for my family, friends, and mentors. It is because of them that I know who God is; who I am; and what love looks like. And because I have been so richly blessed it allows me to serve my community, be a blessing to others, and leave a lasting legacy."
~Jo-Carolyn Goode, Managing Editor
"I am so thankful to have family and friends who love me unconditionally. They give me praise to support my accomplishments and get me together when I need to get my mind right."
~ Rebecca Briscoe, National Entertainment Writer
"I am thankful to God above to be 50, healthy and married to my wife and best friend Sandra. I am also thankful for my daughter, Samantha; our cat, Sadie; my parents, Arlene and Capt. Michael Levine, MD (USNR-RET); and my brother, Steve to be living here today where the Texas and American flags still stand for freedom and to be soon celebrating 23 years of writing for the Page Family.