Future Flight Delivers 'Wow Factor' Experience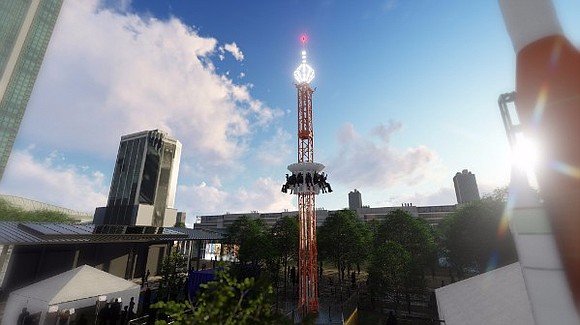 Thousands of football fans will get the ride of a lifetime at Super Bowl LIVE in January with a trip to Mars on Future Flight. The ride, which will be the signature attraction at the free-to-the-public fanfest at Discovery Green, was unveiled November 16 by the Host Committee at SpaceCom.
The ride combines virtual reality with a physical ride in a first-of-its-kind experience. Riders will wear virtual reality headsets before getting strapped into a 90-foot tall drop tower. The ride will go through a launch into space and eventually land on Mars, as the passengers are lifted to the top of the tower. Once on Mars the goggles will include actual footage from the Red Planet, courtesy of NASA, before rocketing back to Earth, landing at the 50-yard line of NRG Stadium in time for Super Bowl LI.
The Host Committee partnered with NASA to create this experience unlike any other. Future Flight is believed to be the first amusement ride to be combined with virtual reality.
"The Host Committee has declared Super Bowl LI as the Super Bowl of the future in the City of the Future," said Sallie Sargent, president and CEO of the Houston Super Bowl Host Committee. "Nothing says 'future' more than deep space travel. The Host Committee is thrilled to partner with NASA and the leading space industry companies to create the Future Flight experience for people to enjoy during Super Bowl LIVE."
Previous Super Bowl festival attractions have included zip lines and toboggan rides.
Super Bowl LIVE is scheduled to open to the public on January 28 and will remain open through Super Bowl Sunday on February 5.