Legendary Hispanic Radio Personality and Poet Nina Serrano Debuts First Historical Romance Novel, Nicaragua Way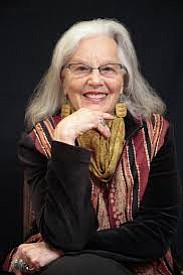 San Francisco, CA – November 3, 2016. Nina Serrano (82) is an inspiring prize-winning poet, playwright, and KPFA Public Radio talk show with a focus on Latino history and culture. She is a former Alameda County Arts Commissioner, the co-founder of the San Francisco Mission Cultural Center for Latino Arts and a Latina activist for social equality and the arts.
Books like Isabel Allende; "Best" Latino Historical Novel; Nicaraguan American Novel; Her first novel, Nicaragua Way, set in Nicaragua and San Francisco in the 1970's and `80's, tells the stirring and inspirational story of Lorna Almendros, a San Francisco Nicaraguan-American poet. Lorna is passionately engaged with a rich cast of characters in supporting revolutionary and social justice struggles in Latin America and the Central American Sandinista solidarity movement in the USA.
Nicaragua Way includes intriguing themes of roller coaster love and romance, strong, independent, and mature women, women's issues, single motherhood, death, grief, war, politics, a search for Latin roots, and creativity in the quest for personal freedom.
"Serrano is a poet, and her lush language brings to life both the fervor of the tropical Managua and the bustle of political work in the Mission -- and the cross-cultural romances and deep friendships that thrived in that fertile soil. -Amazon review
"Nicaragua Way by Nina Serrano is reminiscent of Isabel Allende's Of Love and Shadows." - Amazon review
Active in support of Latino culture, Nina Serrano will donate five percent of profits from the book to the Mission Cultural Center for Latino Arts in San Francisco's Mission District.
About Nina Serrano: Nina is a well-known, prize-winning author and poet. With a focus on Latino history and culture, she is also a playwright, filmmaker, KPFA talk show host, a former Alameda County Arts Commissioner, and a co-founder of the San Francisco Mission Cultural Center for Latino Arts. Oakland Magazine's "best local poet" in 2010, she is a former director of Poetry in The Schools programs and the Bay Area Storytellers in The Schools program. A Latina activist for social justice, women's rights, and the arts, at 82, Nina Serrano remains vitally engaged in inspiring change and exploring her abundant creativity. For more information go to ninaserrano.com