Woman Opens Emergency Exit and Jumps Out of Plane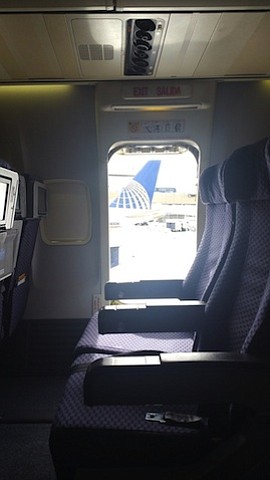 By Donie O'Sullivan
CNN
(CNN) -- A woman opened the emergency exit door and jumped out of a plane as it was taxiing down a runway in Houston, startling passengers on board.
The United Airlines flight had just landed in Houston from New Orleans and was headed toward its gate at the George Bush Intercontinental Airport when the incident happened Monday afternoon, said airline spokeswoman Maddie King.
"I realized when the door popped open and a woman stepped out of it," passenger Hampton Friedman told CNN. He was sitting across the aisle and posted a short video of the open door.
The woman, who was not identified, was treated for non-life threatening injuries. She was not charged, but taken for a psychological evaluation, said CNN affiliate KHOU.
"I've flown all over the world and I've been on lots of really long flights and I've never experienced anything like this," another passenger, Cathy Cole, told the affiliate. "I have no earthly idea why she would want to do that."