Hamilton Creator: Young People Need to 'Show Up and Vote'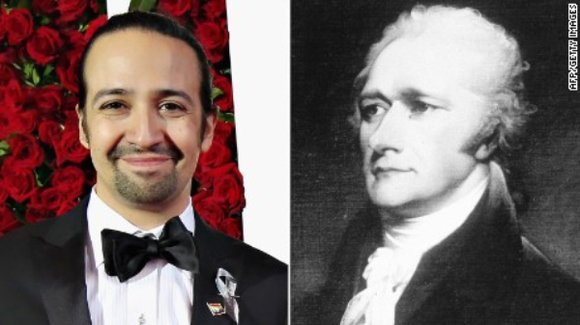 By Tim Skoczek
The Axe Files
CHICAGO (CNN) -- The anti-Latino targeting in this year's presidential campaign, while distasteful, is part of an enduring tradition in American politics, says the creator of the blockbuster Broadway musical "Hamilton."
"There's a long, ignoble tradition of pointing at the newest people in this country and saying they're the reason you don't have jobs," Lin-Manuel Miranda told David Axelrod on "The Axe Files" podcast, produced by the University of Chicago Institute of Politics and CNN. "This is as malignant as I've ever seen it, but it's an old tradition. I think the only way to really fight back is to speak up and vote."
Latinos, a historically underrepresented voting group in America, "are the sleeping giant of this country," Miranda said.
"If we show up with our votes ... we can change the tenor of the debate in this country, which is right now as xenophobic as I've ever seen it in my lifetime," he said.
Miranda believes the same is true of young people -- a potentially powerful but unpredictable group whose share among eligible voters this year will be virtually equal to baby boomers. Yet many young voters have suggested they may not participate in this election, as a sign of protest toward a political system that they say alienates them.
"I think young people need to show up and vote. I think they need to be aware of the sacrifices so many people made for so long for everyone to be able to vote," Miranda said. "To see how legislators in certain states are trying to deny you of your right to vote and cutting up districts so that you can't vote. They wouldn't be trying so hard if it weren't powerful for you to show up on Election Day, so it's really important to make that difference."
It's also personally important to Miranda, who describes his mobilization efforts this election cycle as "all hands on deck."
That includes directing three "Hamilton"-themed get-out-the-vote commercials featuring cast members and some rewritten lyrics from the musical.
To hear the whole conversation with Miranda, which also covered what he learned from meeting Stephen Sondheim in high school, what would surprise the Founding Fathers about politics today, his advocacy for Puerto Rico as Congress debated how to address the island's debt crisis, and why he can't allow his creative output to be held captive to his own successes, click on http://podcast.cnn.com. To get "The Axe Files" podcast every week, subscribe at http://itunes.com/theaxefiles.