East End Street Fest to Launch an Educational Program for Low-Income Students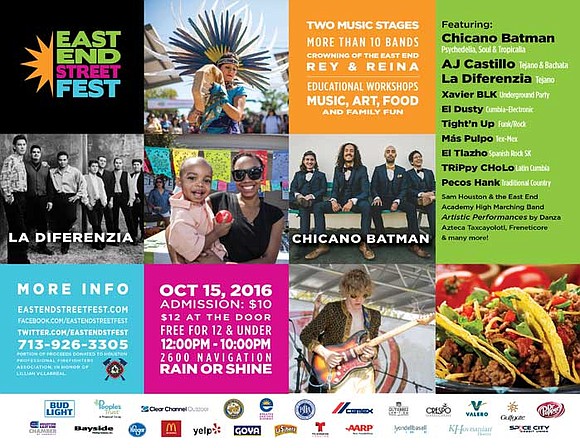 Houston, TX September 21, 2016 —The Navigation Esplanade will once again host the East End Street Fest to be held October 15th, 2016 from Noon to 10:00pm. This year's highlight will be the implementation of an educational program for local students interested in the entertainment and arts industries.
Houston's East End is known for its colorful art expressions and rich Latino history. The average household income in the area is $47,000 and only 9.5% of those living in the neighborhood hold a college degree or higher. Most students cannot afford more than $2,000.00 to travel and attend national entertainment conferences and festivals such as South By Southwest in Austin, Texas. To address this issue, the East End Street Fest committee will introduce an educational program for high school and college students interested in careers in Entertainment, Media, and Arts.
The educational program will be held at Talento Bilingue de Houston on October 15 between 10:00am and 2:00pm. The goal is to nurture the next generation of creative minds in the East End community and also work with local universities and community colleges to allow participating students to receive academic credit.
East End Street Fest committee members hope that this initiative will make the East End a national destination to discover emerging Latino talent and to cultivate the next generation of entertainment and media professionals.
The East End Street Festival 2016 will open its doors to the public at noon with a music lineup that includes national, regional and local music artists such as the psychedelic music band from California, Chicano Batman and the Texas Latino rising star, AJ Castillo. Other rock, Tejano, cumbia, electronic and indie music artists include La Diferenzia and their legendary Tejano style, El Dusty with his revolutionary cumbia-electronic music and Atlanta's Xavier BLK with his high energy underground party music and many other local music artists.
Admission to the East End Street Fest is FREE for kids 12 and under. Adults can purchase their tickets for $10.00 online ($12 at the gate). The location is the East End Esplanade at 2600 Navigation. The time is 12:00 pm to 10:00 pm. For volunteer, vendor or sponsorship opportunities visit http://www.eastendstreetfest.com or call, 713.926.3305. Some of the event proceeds will benefit the Houston Firefighters Association.
About the Houston East End Chamber of Commerce: For more than 22 years the Houston East End Chamber of Commerce has provided support for its business partners. It is the go to place for breaking news of all the redevelopment opportunities for the private and public sector. The Houston East End Chamber of Commerce is ranked as one of the largest by the Houston Business Journal.
Educational Panels include:
Careers in Media
Rita Garcia, Anchor Fox 26
Joey Guerra, Houston Chronicle
Shea Seranno, Best selling author
Nelson Venegas and Jessica Bolaños Vanegas of HAHMP
And more…
Careers in Music
Gracie Chavez, DJ
Hala Bowen, Talent, Live Nation
Anthony Villareal, Pitbull's Globalization channel on Sirius XM, DJ on Hot 95.7, and Regional rep for DJ City
Erin Rodgers, Entertainment Attorney
And more…
Monetizing your Art
Xavier Blk, DJ, Event Production and Shade 45 DJ
Donkee Boy, Visual Artist
B-Boy Moy, International dancer and hip hop ambassador, founder of Break Free Houston.
And more …