Black Panther Party Celebrates 50 Years of Fighting for Equality for Black People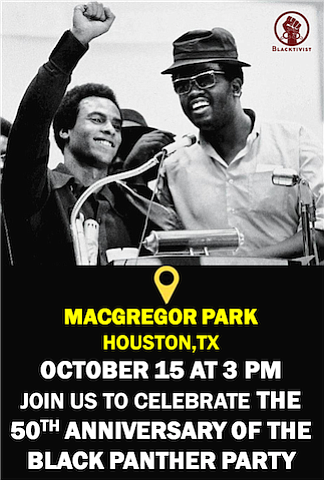 Blacktivist, an online civil rights movement, is planning to celebrate the Black Panther Party 50th Anniversary on October 15 in Houston, TX.
All concerned Houstonians will gather to honor the memory of Huey P. Newton, and other black leaders and prominent members of the party. The Black Panthers still remain a flashpoint in the struggle for black equality in the USA.
We should revive their legacy and discuss the plan that Newton and Seale crafted to empower Black communities economically. The plan contained basic demands such as self-determination, decent housing, full employment, education that included African-American history, and an end to police brutality. The list of confirmed speakers will be released a few days before the event.
Apart from remembering the legacy of the BPP, we will commemorate victims of police brutality and demand justice for their families.
Join us in MacGregor Park (5225 Calhoun Rd) on October 15 at 3 pm. OurFacebook:https://www.facebook.com/blacktivists
Event Page: https://www.facebook.com/events/1183449788395273/
Blacktivist is a Civil Rights NGO protecting the rights of Black people and raising awareness about the problems faced by the Black community