Maya Angelou And Still I Rise: First Documentary About the Incomparable Maya Angelou
Opens theatrically in New York, Los Angeles and San Francisco October 14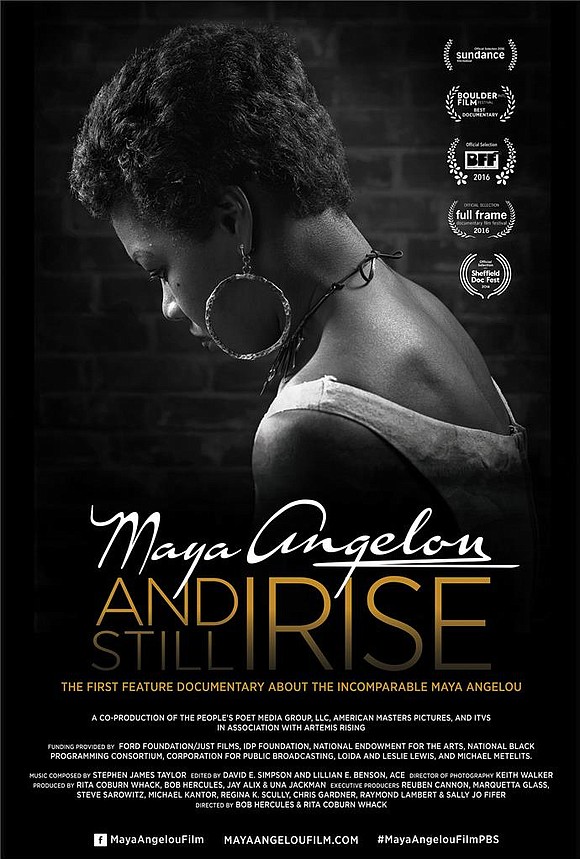 MAYA ANGELOU: AND STILL I RISE is the first film about the incomparable Dr. Maya Angelou. Directors Bob Hercules and Rita Coburn Whack present her incredible journey, shedding light on the untold aspects of her life with remarkable unmatched access. The film is told through never before seen home movies, footage, archival photos and videos and through Dr. Angelou's narration. This intimate and personal portrait of Dr. Maya Angelou's life is a touching and moving tribute to her legacy.
Distinctly referred to as "a redwood tree, with deep roots in American culture," Dr. Maya Angelou gave people the freedom to think about their history in a way they never had before. Dr. Angelou's was a prolific life; as a singer, dancer, activist, poet, and writer she inspired generations with lyrical modern African-American thought that pushed boundaries.
The film features a remarkable series of interviews with friends and family including President Bill Clinton, Oprah Winfrey, Common, Alfre Woodard, Cicely Tyson, Quincy Jones, Secretary of State Hillary Clinton, John Singleton and Dr. Angelou's son, Guy Johnson.
MAYA ANGELOU: AND STILL I RISE premiered to critical acclaim at the 2016 Sundance Film Festival. It won the Audience Award at AFI Docs and was featured at notable fests worldwide including Full Frame, Sheffield, Boulder Film Fest, and Riverrun. The film is currently playing in Chicago to sold out audiences with this nationwide roll out following. It will open exclusively in Los Angeles, New York, and San Francisco on October 14.
ABOUT MAYA ANGELOU: AND STILL I RISE
Dr. Angelou has become a global symbol of peace, humility, and freedom–– but parts of her story are not well known. Reflecting on events of history, culture, and the arts shaped Dr. Angelou's life and how she, in turn, helped shape our own worldview through her autobiographical literature and activism.
Bob Hercules and Rita Coburn Whack's unprecedented film MAYA ANGELOU: AND STILL I RISE celebrates Dr. Maya Angelou by weaving her words with rare and intimate archival photographs and videos, which paint hidden moments of her exuberant life during some of America's most defining civil rights moments. From her upbringing in the Depression-era South to her swinging soirees with Malcolm X in Ghana to her inaugural speech for President Bill Clinton, we are given special access to interviews with Dr. Angelou whose indelible charm and quick wit make it easy to love her. Don't miss this film!
MORE INFORMATION: