2016 ACCT Congress Kicks Off With Promise Programs, Calls to Serve Diverse Student Populations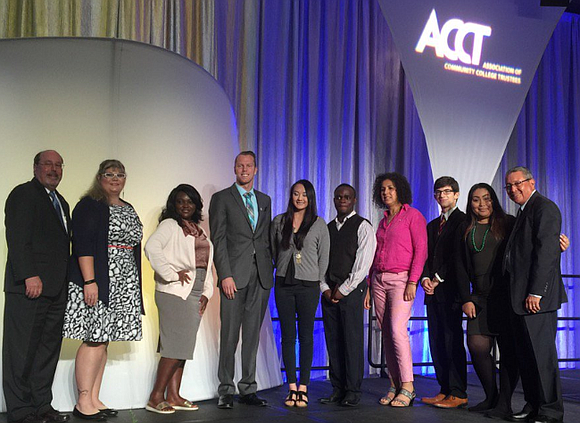 As the College Promise movement continues to gain momentum, the 1,700 community college trustees, presidents and other leaders convening in New Orleans for the 2016 ACCT Leadership Congress were urged to consider how such programs could best meet the distinct characteristics of their own communities.
"How do you design something for your community that meets the greatest need?" Martha Kanter, executive director of the College Promise Campaign, asked attendees during a Congress session Wednesday.

The number of Promise programs across the country has tripled in recent years to around 150, including several statewide programs, according to Kanter, formerly Under Secretary of the U.S. Department of Education. There's an equally wide diversity in funding sources, criteria for students, and partnerships, she added.
"Boards play essential roles in shaping a Promise program," said Constance M. Carroll, chancellor of the San Diego Community College District, where trustees ensured the district's program connected with the board's core values of diversity, equity, and access by actively conducting outreach with disadvantaged K-12 students. As a result, 90 percent of Promise participants are students of color. "That's a tremendous outcome we're very very proud of," Carroll said.
In Oregon, fears that the legislature-driven Promise program would primarily benefit middle-class students were mitigated by ensuring additional support beyond tuition, expanding access to GED and undocumented students, and winning funding for advising and other support services, said Andrea Henderson, executive director of the Oregon Community College Association.

"We need to focus as much on academic structures," agreed Donald Generals, president of the Community College of Philadelphia, which added cohort-based supports to its own Promise program. Generals called Promise programs part of "a historical moment" for community colleges.
Trustees also must ensure that lawmakers and other stakeholders understand that community college expenses go far beyond tuition. In Utah, Salt Lake Community College has moved most gateway courses to open educational resources, saving students $3 million in textbook costs, said President Deneece G. Huftalin.
Kanter announced a college promise webinar slated for October 21 and the upcoming PromiseNet 2016 conference, October 24-26 in Washington, D.C., designed to advance community college student success.
Earlier Wednesday, the Hon. Joseph A. Garcia kicked off the 2016 Congress with a call to "steward and advance the hopes and dreams" of an increasingly diverse body of community college students. Garcia, the president of the Western Interstate Commission for Higher Education, framed the challenges community college leaders face within the broader context of the ongoing democratization of higher education throughout the nation's history.
"Think about the intention of the founders of our institutions and the community college sector and whether that intention is being met," said Garcia, who has also served as Colorado's lieutenant governor as well as a community college president--and a former community college student. "It is not enough to support these ideals. We cannot claim the moral high ground if we're not asking ourselves every single day whether we're not just providing access and opportunity, but success and better lives. That's what our students, communities, and taxpayers expect of us."