2016 ACCT Congress Kicks Off With Promise Programs, Calls to Serve Diverse Student Populations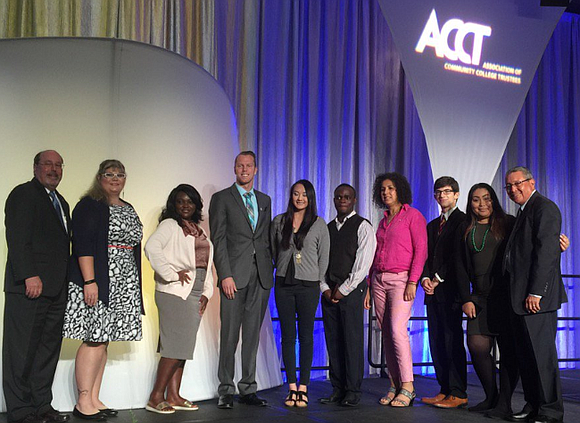 Trustees "are the guardians of that mission," Garcia added during his opening keynote address. "You have to fight to preserve that."
ACCT President & CEO J. Noah Brown urged the more than 2,000 community college leaders attending the 2016 Congress to ensure that the unprecedented focus on community colleges does not abate with the new presidential administration. "I would suggest we cannot allow that to happen," said Brown. "The success of our students determines the success of our country. No one has greater responsibility for that success than those of you in this room."
Accreditation, Pell Challenges
The leader of the nation's largest regional accreditation organization told 2016 ACCT Leadership Congress attendees on Thursday that proposed legislation could tilt the balance of accreditation away from continuous improvement.
"In today's world, we are being pushed more and more toward the federalization of higher education," said Barbara Gellman-Danley, president of the Higher Learning Commission, which oversees accreditation in 19 states.
Legislation proposed by Sens. Elizabeth Warren (D-Mass.), Richard Durbin (D-Ill.), and others would charge the U.S. Department of Education with establishing uniform standards for accreditation, including criteria involving outcomes, assessment, and affordability that Gellman-Danley calls "bright lines" which, while well-intentioned, rely on limited data sources and could potentially impact many institutions. The proposed legislation also would require greater reporting of accreditation activities to federal agencies, potentially including materials such as self-studies and site visit notes that are currently intended for internal improvement efforts.

Gellman-Danley urged community college trustees to remain involved as deliberations involving proposed legislation continue. She also said trustees should be aware of the accreditation criteria for their campuses and ensure results from the process are used to advance their institutions.
Accreditation and other federal issues also were the focus of a special session on legislative priorities held by ACCT and American Association of Community Colleges policy experts earlier Thursday. It's not clear how the presidential election will impact the ongoing funding impasse, with the current continuing resolution set to expire in December, Jennifer Stiddard, ACCT's director of government relations, told Congress attendees. However, the current Pell Grant surplus remains a potential source of funding for other priorities, which could both impact ongoing bipartisan efforts to reinstate year-round Pell grants and the long-term funding for the $40 billion program.
"There's nothing more important you can do between now and the end of the year than advocate for year-round Pell," said David Baime, AACC's senior vice president of government relations and policy analysis.
ACCT and AACC policy experts also discussed the prospects for reauthorization of the Higher Education Act and the Perkins Vocational and Technical Education Act, as well as ongoing deliberations involving institutional responsibility for cohort default rates. Jee Hang Lee, ACCT's vice president for public policy and external relations, urged Congress attendees to attend the 2017 National Legislative Summit in Washington, D.C. to ensure support for community colleges by the new presidential administration and ongoing support from U.S. Congress.
"I cannot stress enough the importance of having a large group of people in Washington advocating on our behalf," Lee said. "It provides a powerful message to legislators. There are big issues, and we need as many of you in Washington as possible to push that message."
For more information, visit ACCT's new site, now.acct.org, which offers insights and perspectives about community college legislation and federal policy.
The 2016 ACCT Congress continues today with concurrent sessions, roundtables, and a special summit on safeguarding college campuses. 2016 ACCT Regional and Association Awards will also be presented today. Follow ACCT on Twitter @CCTrustees and tap into participants' tweets by searching #ACCT2016.