Hurricane Matthew Blamed for 3 US Deaths, Sparks Flash-flood Fears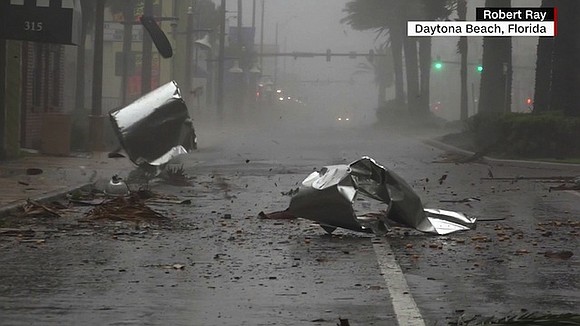 By Jason Hanna, Madison Park and Steve Almasy
CNN
(CNN) -- Floridians along the Atlantic coast were coping Friday with rising water as Hurricane Matthew drenched the state with rain and strong winds pushed waves over beaches.
Meteorologists said storm surge had been measured at more than 4 feet in some areas.
The storm, which is blamed for three deaths in Florida, sparked flash-flood concerns. The National Weather Service issued a warning for parts of Nassau County, north of Jacksonville.
"The combination of a dangerous storm surge, the tide and large and destructive waves will cause normally dry areas near the coast to be flooded by rising waters moving inland from the shoreline," the National Hurricane Center said.
After killing hundreds in Haiti and other Caribbean nations, Matthew's power led to the deaths of a woman in her 60s in Volusia County (by a falling tree) and an 82-year-old man and a woman in St. Lucie County, officials said. The latter two had medical emergencies and responders were unable to reach them in time because of hazardous weather.
The Category 2 hurricane, while losing some of its wind speed, has left more than 1 million people without power as it skirts the state's east coast, with the most damaging blow possibly still to come.
Governors in North and South Carolina warned residents to get out in advance of the storm, which could drop as much as 15 inches of rain.
But it's not as if Matthew -- with winds of 110 mph at the center -- didn't cause any damage with its powerful winds.
Parts of St. Augustine flooded even as the hurricane was still approaching. A virtual river of water rushed past a bed and breakfast business in the city about 35 miles southeast of Jacksonville, according to video posted by reporter Russell Colburn of CNN affiliate WJAX.
Special concern surrounded Jacksonville's St. Johns River, which could be overwhelmed by water pushed into it by the storm.
"Just because the center of circulation is offshore doesn't mean you can't be the center of action (along the coast)," National Hurricane Center Director Rick Knabb said. "It's going to get a lot worse before it (has) a chance of getting better."
Here's what you need to know:
• As of 5 p.m. ET, Matthew's center was over the Atlantic, about 40 miles east of Jacksonville Beach, the National Hurricane Center said. Hurricane-force winds extended outward up to 60 miles from that center. It was moving north at 12 mph.
• Jacksonville could see storm surges of up to 9 feet Friday afternoon, forecasters said. Anything over 3 feet in the city is life-threatening, Mayor Lenny Curry said.
• "Very dangerous conditions, and it's going to get worse into the afternoon," Curry said.
• A total of 1.1 million customers statewide were without power.
• Forecasters predict storm surges in coastal Georgia and South Carolina also could be as high as 9 feet, and as many as 15 inches of rain could fall from central Florida to North Carolina.