Hurricane Matthew Blamed for 3 US Deaths, Sparks Flash-flood Fears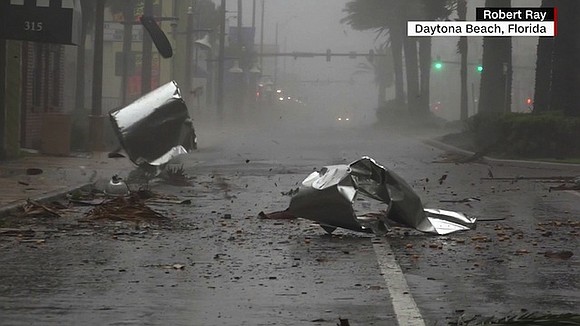 • The National Weather Service warned that some places hit by Matthew could be uninhabitable for "weeks or months."
• The storm has killed at least 300 people in three Caribbean countries. The majority died in Haiti, said Civil Protection Service spokesman Joseph Edgard Celestin.
'Really dangerous'
Though the storm hasn't made landfall, it left swaths of coastal Florida with downed trees and power lines.
Matthew kicked up debris and street flooding in Daytona Beach late Friday morning. Video recorded by journalist Robert Ray showed metallic, foil-like debris and other small objects rolling down one of the streets in the city.
Florida Govs. Rick Scott said officials are particularly concerned about low-lying areas in and around Jacksonville, where there is potential for significant flooding.
He said all major roads and interstate highways were open as of late morning, and no major road or traffic issues were reported. In some of the counties that the storm has passed, it appeared that evacuations urged by local officials worked, he said.
"While the storm is still on, don't go outside," Scott said.
More than 22,000 people were in shelters statewide, he said.
President Barack Obama urged people in coastal northeastern Florida and Georgia to heed the instructions of local officials as Hurricane Matthew approached.
"This is still a really dangerous hurricane," Obama said at the White House Friday. "We're not going to know for three, four, five days what the ultimate effects of this (storm) are."
Major southern Florida population centers such as Miami and West Palm Beach appeared to have avoided the worst of the storm, as the dangerous eyewall stayed about 100 miles off the coast.
Parts of the Miami area saw tropical storm force winds, but higher hurricane force winds were a couple hundred miles farther north. Winds knocked down power lines in Miami-Dade County, leaving tens of thousands without electricity. But only 1,000 customers were still in the dark Friday afternoon, Florida Power & Light said.
Officials in eastern Florida, Georgia and South Carolina urged people to evacuate coastal areas.
Airline passengers were urged to call and check on the status of their scheduled flights before leaving for the airport. Florida airports had canceled hundreds of flights, most of them in Miami, Fort Lauderdale and Orlando. Fort Lauderdale closed its airport, airlines suspended operations in Miami and Orlando's airport closed Thursday evening.
Georgia, South Carolina and North Carolina
As northeastern Florida braced for impact, coastal communities in Georgia, South Carolina and North Carolina also were on notice. The storm's center could be near or over the coasts of Georgia and South Carolina on Saturday, the hurricane center said.
Georgia:
• Glynn County officials wrote on Facebook that "Conditions have deteriorated to a point that persons remaining in (the area near Brunswick) are advised to shelter in place for the remainder of the storm."
• Maj. Tommy Tillman of the Chatham County Sheriff's Office said the road to Tybee Island is closed.
• In Savannah, Mayor Eddie DeLoach warned those who stay that they'd be on their own.